The developer behind one of Bath's most significant new housing projects has donated £3,000 to support local schools as they prepare to fully reopen.
Hardrock Developments, which is developing Holburne Park, pictured, on Warminster Road, has given Bathwick St Mary Primary School £1,500 for new play equipment while Bathampton Primary School has received the same amount to help build a new library.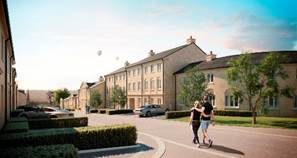 Both schools are close to Holburne Park, which is in a secluded location above Sydney Gardens and bordering the Kennet and Avon Canal.
Bristol-based Hardrock is developing Holburne Park over a number of phases. When completed it will include more than 200 new home ranging from four-bedroom homes – which are now on sale – to a mix of one-bedroom apartments up to five/six-bedroom houses.
The scheme, which is within walking distance of Bath city centre, is designed in keeping with the character of Bath's architecture.
The contributions to the schools are separate to the Section 106 funds already paid by Hardrock Developments as part of its agreement with Bath & North East Somerset Council for Holburne Park.
Hardrock Developments director Ed Gunnery said: "At Holburne Park we're working hard to create a neighbourhood that offers an ideal location for family living and supporting our local community is a big part of that.
"Our thoughts are with the teachers who are still working to enable our key workers to provide essential services at this time and, once schools reopen, we're looking forward to visiting to see how their new projects are developing."
Bathwick St. Mary Church School headteacher Kevin Purkiss added: "Although we have lovely grounds at Bathwick, our child-led school council and the governing body have been reviewing plans to improve the outdoor space, so it is even better.
"Developing the playground experience will help the children to enjoy the time they spend playing and learning outside, which will have a positive impact on their wellbeing and the school day as a whole."
Bathampton Primary School headteacher Thomas Brewer said: "We are very grateful for the generous donation from Hardrock Developments, especially as our budgets have been significantly cut in recent years and we must fundraise to provide our much-needed library."