A novel feature has been added to the innovative project masterminded by Bath landscape architecture practice Grant Associates that will turn the Tower of London's moat into a vibrant sea of flowers this summer – a giant slide.
Visitors will be able to make a dramatic entrance to the Superbloom attraction via the 21ft slide, which will take just five seconds to descend from top to bottom.
The four-lane slide will be relocated from the National Trust's Cliveden House in Buckinghamshire, where it has been in place since 2013 while repairs were made to a 350-year-old staircase.
Historic Royal Palaces, the independent charity that manages the Tower of London, said the slide would provide a memorable and immersive experience for visitors to Superbloom, one of scores of projects across the country that will mark 70 years since the Queen came to the throne.
Superbloom will transform the Tower's moat into a permanent habitat for pollinators and seed-eating birds.
In recent years, the moat – built in the 13th century as part of the Tower's defences and currently lawn – has been the setting for two major commemorations of the centenary of the First World War – the 2014 'Poppies' and 2018 'Flames' installations.
Historic Royal Palaces chose Grant Associates for Superbloom because of its wide broad experience of producing stunning architectural schemes across the globe for the past 21 years.
The nature-focused practice was behind The Guangzhou Garden, the winner of the Best Show Garden at last year's Chelsea Flower Show, as well as the world-renowned Gardens by the Bay in Singapore and major projects in the Far East, Australia and the UK, including supporting Bath's Forest of Imagination community arts event.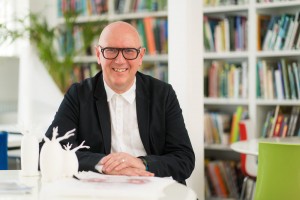 Superbloom will take inspiration from the moat's long history, bringing nature back to the Tower's urban landscape.
After a year of extensive testing and planning, 20m carefully selected seeds will be sown in the moat this spring, bringing a spectacular natural beauty to the base of the Tower's historic walls, which will continuously evolve from June to September, changing colours and patterns throughout the summer while creating a new habitat and green haven for pollinators, insects and seed-eating birds alike.
Grant Associates is working University of Sheffield's Professor of Planting Design Nigel Dunnett on Superbloom, which will also celebrate the value and importance of nature to our collective wellbeing.
Grant Associates founder and director Andrew Grant, pictured, said: "The Superbloom project is rapidly taking shape and we are delighted to see how our ideas are coming to life in the moat.
"We wanted the Superbloom experience to be a vibrant and ever-evolving landscape that will shift and change colours and patterns throughout the course of this summer, enriched by moments of interest and delight.
"The slide will add a particularly memorable dimension to the visitor experience at the start of their journey around the moat."
Historic Royal Palaces director of public engagement Tom O' Leary added: "We want to give visitors to Superbloom the chance to arrive in the flowers with a sense of occasion and fun — and what better way to do that than entering the Tower of London's moat via a huge slide?"