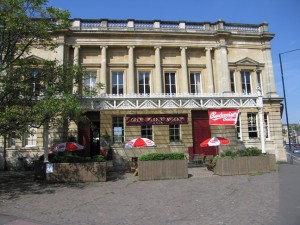 The award-winning Green Park Brasserie in Bath is celebrating 20 years in business by launching its own wine range.
The wines include a Monastrell Tinto (red), a Macabeo Blanco (white) and a Monastrell Rosada (rosé) and have been selected by Paul Scaife of Chalkstream Wines to compliment the flavour-filled menus for which the Brasserie is known.
Green Park proprietor Andrew Peters said the success and longevity of the restaurant is thanks to its core mission of making people happy.
"We count ourselves very lucky to be in Bath and to have enjoyed such great support from our lovely customers, talented musicians, loyal and fantastic staff and high quality producers," he said.
"We set out to produce the best possible food and dink, served in a warm, vibrant ambience at a reasonable price. This remains our mission every day. We are here to make people happy."
Mr Scaife added: "The range of wines are sourced from Bodegas del Rosario's 'Las Renas' range and specially labeled for Green Park Brasserie. They are not available in retail and so the Brasserie has a truly independently sourced and personalised range of house wines of real style."
Anyone booking a table at the restaurant between July 30 and September 16 will be entered into a draw to win an invitation to its anniversary celebration event on September 27. The three winners will also be presented with a set of Green Park's own-label wine and a voucher for a dinner for two.
Chalkstream Wines was founded by Paul and Debbie Scaife in 2003 and source wines of elegance, character and reliability from France and Spain. The couple recently won the Blackmore Vale Magazine 2012 Business Awards prize for Start-Up Business of the Year. The restaurant won the Bath Life award for best restaurant in 2009.