Maritime technology manufacturer Coltraco Ultrasonics has secured a major contract to supply innovative equipment to the Indian Navy.
The firm, which has its technical office in Ston Easton, near Midsomer Norton, is to provide the navy – one of the world's largest – with nearly 200 of its advanced watertight integrity inspection product, pictured.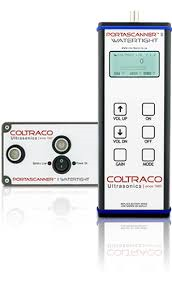 The equipment will be used to protect crews on its 155 warships by ensuring the hatches, doors and cable transits are watertight.
The deal follows a determined effort by the business to bolster its presence in India by exhibiting at various trade shows in the country.
Coltraco, which also has offices in London, New York, Hong Kong and Dubai, was supported by Department for International Trade's (DIT) Tradeshow Access Programme (TAP), part of the Exporting is GREAT campaign.
TAP provides grant funding to help businesses gain essential market knowledge and make new contacts by exhibiting at trade shows around the world.
Coltraco has provided a similar service to the Royal Navy in the UK for more than 20 years and works with customers in 109 countries, including Singapore, China and the US.
Asia accounts for 40% of its exports, while North America, the Middle East and Europe account for 17%, 10% and 15% respectively, with the balance to South America and Africa.
The Ston Easton office, which opened in 2011, will be key to providing support to the Indian Navy through its final product testing and logistics.
Coltraco Ultrasonics chief executive Carl Hunter said: "We presented our Portascanner WATERTIGHT to the Indian Navy, which carried out extensive trials with competitors.
"The Indian Navy selected our product for its accuracy – it's the most mathematically accurate model available worldwide – its ease-of-use and the local in-country support.
"Working in international markets like India presents opportunities and challenges. With our 30-year export experience, we are well accustomed to managing and succeeding abroad, and one contributing factor is the support from UK government, especially DIT.
"For example, we started exporting many years ago with the help of the market research reports provided by DIT – today called OMIS reports. We have also attended workshops e.g. an overseas agent masterclass that advises on global network development.
"My advice to any company considering exporting is to do it. Exporting has had a huge impact on our business, and if we can, so can other British businesses."
The deal follows the launch of DIT's export strategy that sets out how the government will support businesses of all sizes to make the most of the opportunities presented by markets across the world.
A government-led collaboration with business, developed after extensive engagement with a range of UK firms, the strategy sets a new ambition from government to increase exports as a proportion of UK GDP to 35%.
International Trade Secretary Dr Liam Fox MP said: "Coltraco Ultrasonics is a brilliant example of how UK design and manufacture can have a global impact, with 90% of their sales coming from overseas.
"As an international economic department, DIT stands ready to support any business with exporting ambitions. Our recently launched export strategy sets out a strong offer to companies and I would encourage anyone thinking of selling around the world to contact their local international trade advisor for more advice."