Finance giant Legal & General is to launch a pioneering retirement village concept in Bath in a move it says will go some way to easing the city's housing crisis linked to its ageing population.
L&G has bought the 4.5-hectare former Homebase site off Pines Way from owner British Land in a £13.5m deal and is to demolish the disused 68,000 sq ft store, replacing it with 250 apartments.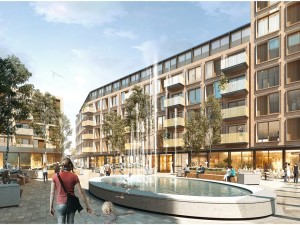 The scheme is one of two announced by L&G as it launches its Guild Living concept to develop and operate what it is calling "urban later living communities".
Guild Living plans to develop more than 3,000 new homes over the next five years, giving it a gross development value of around £2bn.
While a penthouse apartment is reported to be priced at around £1m on the Bath scheme, L&G said its homes would be affordable for 95% of homeowners in the city.
The Guild Living concept is to develop high-specification retirement schemes close to city centres which will bring together members of the community.
Residents will live independently but within a safe, purpose-built environment with 24-hour support available if required.
Subject to planning consent, the scheme will include a restaurant, physiotherapy gym and pool, wellness centre, children's nursery and retail spaces for local businesses – all open to the local community.
Guild Living also said the scheme represented a first step towards tackling the chronic under supply of later-living accommodation in Bath. Quoting Office for National Statistics (ONS) data, it said there were more than 100,000 people over the age of 65 within a 10-mile catchment of the new site.
The scheme will also create up to 160 full-time jobs and contribute towards Bath and North East Somerset (B&NES) Council's five-year housing supply targets for the area, said Guild Living.
It would also act as a catalyst for the future regeneration of the wider area as defined in the council's recently adopted placemaking plan, it said.
The development will also alleviate pressures on local housing and health services, according to Guild Living, helping free-up other sectors of the housing market by releasing much-needed family accommodation such as three, four and five-bedroom family homes.
It also estimates a reduction of 30% on the demands placed on the local NHS from residents living in supported communities.
Legal & General Later Living CEO and Guild Living chairman Phil Bayliss said: "With over 3m over-60s in UK seeking to downsize their homes, we see a £100bn investment opportunity. Some 84% of the UK population live in urban areas and we expect retirees to continue to migrate to UK towns and cities, like Bath, to enjoy all the local amenities they have to offer as well as to be closer to their loved ones and transport links.
"In Bath, our unique offering will help address the local need for age appropriate housing, supporting the council in delivering its ambitious housing targets, alleviating pressure on health services and providing new high-quality options for over the 65s to live well longer."
Guild Living – a partnership between L&G and a team of global experts in design, development and wellness – said it schemes would be set in vibrant urban environments and "combine beautiful architecture and interiors with ground-breaking and academically accredited wellness programmes to enable and enrich an independent, active later life".
Legal & General Capital bought the Homebase site from British Land in a £13.5m deal in which it was advised by Knight Frank.
A second site is to be developed in Epsom, Surrey, on disused hospital land. Guild Living hopes to start construction on both early next year after planning permission, and to complete the developments by 2022.