Bath-based spectacles designer and manufacturer Inspecs has launched its own sustainable range in what it has described as a massive step forward for its industry.
The collection, called Botaniq, has been designed by the firm's in-house technical experts using biodegradable natural, recycled and recyclable material in direct response to consumer demand for sustainable products.
And because the company operates a vertically integrated model – it owns factories the UK, Vietnam, China and Italy and distributes in 80 countries worldwide – it has been able to control every step of the process from design, to sourcing, manufacturing and delivery.
Having launched Botaniq in the UK this month, Inspecs, which makes glasses for global brands and retailers such as Superdry as well as its own ranges, is looking to roll it out on a global scale at an affordable price in an effort to prevent the mountain of waste caused by the industry – some 4.5m frames are thrown away every year in the UK alone.
CEO Robin Totterman, who founded the business in London in 1988 and relocated it to Bath in the early 2000s, was determined to something about the waste.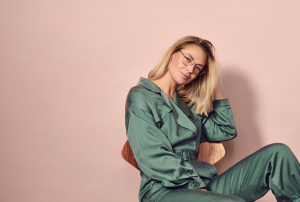 Botaniq not only prevents the frames and lenses going to landfill – the biodegradable materials mean they can be returned to the company for recycling – but the glasses case itself can be shipped flat to reduce transport carbon footprint and all other packaging is made from recycled cardboard and recyclable plastic bags.
Robin said: "I grew up in Scandinavia in a culture of simple, beautiful products, smart choices about waste and a respect and love for the natural world.
"But when I first started this company the word 'sustainable' was generally still a leftfield concept.
"Thirty years and millions of glasses later, my company acquired a set of factories known as pioneers in eyewear-making who were not afraid to test and work with new innovations and materials.
"I found myself in a position to make positive industry changes and meet the demands of retailers and consumers who are willing to make sustainable choices if the source is trustworthy, and it doesn't cost them more to buy."
He said every element of the collection was hand-crafted with the environment in mind, ensuring that it is sustainable and eco-friendly.
"I challenged the design and technical teams to come up with affordable solutions for making frames that make less impact on the planet," he added.
As a result, all the materials making up the frame are selected for their sustainable qualities and durability such as wood, cork and bamboo, recycled stainless steel and Natura – a highly-biodegradable acetate certified by Organic Waste Systems to biodegrade within 120 days under controlled composting conditions – quicker than oak leaves.
Unlike many other sustainable materials, Natura also comes in many different colours and textures.
Meanwhile the demo lenses, which are usually discarded when the frame is glazed in the factory, have been made recyclable.
Inspecs is partnering with One Tree Planted – a non-profit organisation dedicated to global reforestation – to ensure that for each frame sold, a tree will be planted to offset the carbon from shipping the product.
Botaniq has been launched with 16 different unisex designs for everyday wear with prices comparable to non-sustainable frames.
Inspecs, which is based in Bath's old Gas Light and Coke building on Upper Bristol Road, has grown rapidly since floating on the London Stock Exchange's Alternative Investment Market 12 months ago.
Last July it bought Gloucester-based historic UK spectacle lens company Norville for £2.4m after it fell into administration and four months later snapped up German firm Eschenbach Optik for €94.85m (£84.78m) in a move that propelled it to as position as one of the world's leading eyewear companies.