Bath-based glasses designer and manufacturer Inspecs Group has made its third acquisition in 18 months, snapping up a German spectacle frame distributor for €1.76m (£1.51m).
Inspecs said buying BoDe Design Vertriebs, which also distributes Inspecs products in Holland, Austria and Switzerland, further reinforced its strategy of developing strategic distribution of its products to both chain and independent opticians around the world.
The acquisition follows those of historic UK spectacle lens maker Norville in July last year and German eyewear supplier Eschenbach in December.
Inspecs said BoDe was expected to generate revenues of around €3.75m this year and should enhance group earnings enhancing in 2022.
Inspecs founder and CEO Robin Totterman said the group had worked alongside BoDe founders Stefan Boop and Matthias Deter for many years. The firm distributes its own own licensed brands Comma and ZWO as well as those of Inspecs.
"We look forward to further synergies and working with the dynamic team at BoDe in the future," he added.
Inspecs produces a wide range of spectacle frames and lenses, including sunglasses and safety glasses.
Its customers include global optical and non-optical retailers, global distributors and independent opticians, with its distribution network covering more than 80 countries and reaching around 70,000 outlets.
It has offices in the UK, Portugal, Scandinavia, the US and China, including Hong Kong, Macau and Shenzhen, and factories in Vietnam, China, the UK and Italy.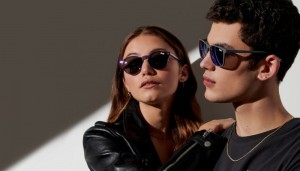 It paid £2.4m for Gloucester-based Norville after the 120-year-old firm fell into administration – a move that further enhanced its vertically integrated business model.
The deal included the takeover of Algha, the East London frame maker which once made millions of glasses for the NHS and now produces the Savile Row brand.
This was followed six months later by the €94.85m acquisition of Eschenbach, which included the American company Tura and extended the group's presence internationally in key global markets.
The deal to acquire BoDe includes an upfront cash consideration from existing cash resources and a deferred cash consideration based on financial performance over the next three financial years.
Inspecs, based in Bath's old Gas Light and Coke building on Upper Bristol Road, was set up by former bond trader Mr Totterman in 1988. It floated on the London Stock Exchange's Alternative Investment Market in February 2020.