Bath-based strategic workplace design company Interaction has started work on a project that is set to be one of the UK's most sustainable offices.
Interaction has been commissioned by international law firm Osborne Clarke to work on the fit-out of its new state-of-the-art Bristol base in the city's landmark, green office building Halo.
When completed the 116,000 sq ft development will be the first office building outside of London to achieve a BREEAM Outstanding certification against new sustainability assessment criteria.
Osborne Clarke will relocate its 700-plus staff from its office in Temple Quay to the top five floors of Halo – nearly two thirds of the Grade A building.
Interaction's work on Osborne Clarke's new interior workspaces at Halo will support the firm's plan to boost agile working practices and staff wellbeing.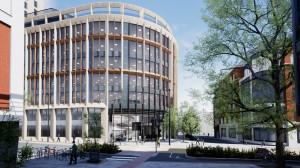 Key features will include an informal creative space to encourage collaboration, flexible meeting spaces with moveable walls and furniture, indoor gardens where people can work away from their desks, a yoga and spin studio, and a restaurant with a private rooftop terrace.
Osborne Clarke partner Tim Simmonds said: "We have worked closely with the Interaction team, who have understood our brief so well, to create a space that will shape how we will work in the future.
"We are incredibly excited that our internal fit-out has commenced and we look forward to seeing the standout design come to life."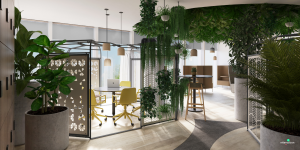 Interaction managing director Dieter Wood added: "We're incredibly proud to have designed this flagship workspace for Osborne Clarke and really excited to begin work on the fit-out and make it a reality.
"We have worked closely with employees across the firm to really understand the way they work and provide innovative design solutions that meet their unique needs.
"We can't wait to deliver this highly flexible workspace that will promote new ways of working and staff wellbeing long into the future."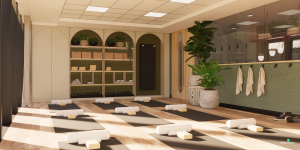 In addition to its stand-out environmental credentials, Halo is also targeting the highest 'Wired' Platinum digital connectivity score and has been designed to achieve WELL Core Building certification, reflecting its focus on wellbeing.
Halo's modern design features a unique corkscrew-like staircase rising up through a glass atrium, with highly efficient LED lighting, roof-top mounted photovoltaic panels, a bike park – and even a drone landing pad.
Halo forms a key part of the second phase of Finzels Reach, the much-acclaimed new mixed neighbourhood close to Bristol Bridge and alongside the city's Floating Harbour.
The building is being developed by Bristol-based urban regenerator Cubex, which secured a major forward funding deal with Tesco Pension Investment.
Privately owned Interaction has been creating workplaces for ambitious organisations across the South West since 1992.
Key recent projects include workspaces for Xledger, the global cloud-based finance software provider with its UK headquarters in Bristol, and FemTech business Elvie as well as GKN Aerospace's Global Technology Centre in Filton.
Last week it launched a new fast-turnaround workspace service called Primed to help landlords let their office space more quickly and profitably.
The programme provides quality pre-fitted workspaces and 'rentalised' design options to help landlords, serviced office providers and co-working operators attract high-quality tenants.