The long hoped for new stadium on The Rec – and new home for Bath Rugby – will be designed by globally renowned architectural firm Grimshaw if it gets the go-ahead.
The London-based practice – responsible for the re-designed Wimbledon's No 1 Court and the new grandstand at Lord's cricket ground – was appointed this week by Stadium for Bath, the partnership that brings together Bath Rugby, Bath Rugby Foundation and stadium developer Arena 1865.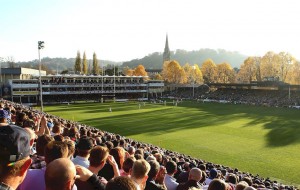 Grimshaw was awarded the contract following a rigorous selection process. It will now be tasked with realising the vision for a new community-focused 18,000-capacity stadium on The Rec in the heart of Bath.
Stadium for Bath now intends to submit a final design for planning approval this year.
Multi-award winning Grimshaw's design credentials span across the globe but it has a track record of delivering projects in sensitive heritage locations in Bath including the Thermae Bath Spa and the recently approved changes to the grade II-Listed former Herman Miller factory for Bath Spa University.
Stadium for Bath said design credentials and design process were key to the selection of Grimshaw but equal importance was placed on the individuals, the team and the way they work.
As part of the pre-design listening process Stadium for Bath asked stakeholders, including local residents and supporters, to list their considerations for appointing a lead architect and design team.
The project team reviewed a long list of top-name architects before whittling it down to eight as part of the selection process.
A "fundamental quality" of the winning architect was the demonstration of its ability to listen and collaborate with all stakeholders as part of the design process, said Stadium for Bath.
Bath Rugby chief executive Tarquin Mcdonald, who is also a director of Arena 1865, said: "This project is about a club that plays its rugby and lives in the heart of Bath – a World Heritage site – and has done so for over 150 years.
"However, if we want to continue to be Bath Rugby and remain in the heart of this unique city we must be so much more than a rugby club. Stadium for Bath is about delivering a new home for Bath Rugby but it is clear that this project is goes beyond that. It is about rugby as a catalyst for riverside regeneration in the centre of Bath and the provision of significant community benefits that create a legacy for everyone whether or not they are rugby supporters.
"We have spent months undertaking a robust architect selection process and believe that we now have the best team in place to design an amazing place to watch rugby and a truly exceptional destination that will become a jewel in the city's crown.
"We will now accelerate the design process and we look forward to consulting with stakeholders across the city, including local residents and our supporters, as we all work together to create a brilliant legacy for Bath."
Grimshaw partner Kirsten Lees added: "We very much look forward to working with Stadium for Bath to deliver this hugely prestigious and exciting project. The site's sensitive and complex location demands a very special and unique design response in order to deliver the project's aspirational objectives.
"The scheme is set to deliver wider benefits to the city including riverside regeneration and an enhanced relationship with the Recreation Ground in order to provide an exceptional new home for Bath Rugby, emblematic of its place, its community and the UNESCO World Heritage City of Bath."
He said the design aesthetic and stadium experience would be fundamental to the overall design. There would need to be a smart use of space at the site, the design of internal and operational spaces, and the landscape setting of the stadium would also be essential components of a successful design.
Grimshaw has appointed Torquay-based Kay Elliott as destination and interiors architect and will have overarching responsibility for designing the internal look and feel of the new stadium.
Internal areas include hospitality, player areas, bars and toilets, along with non-matchday uses such as conferencing and banqueting.
Edinburgh-based Gross Max has been appointed to lead on riverside design and the public realm to ensure that they are delivered to an exceptional standard befitting Bath.
Arena 1865 was established to deliver Bath Rugby's elite training facility and headquarters at Farleigh House.