Games media group Network N's new flagship office in Bath, which was created by city-based workplace design-and-build company Interaction, is in the running to win a prestigious global award.
The fast-growing business is a finalist in The Society of British & International Interior Design's (SBID) International Design Awards for its workplace in Circus Mews, pictured.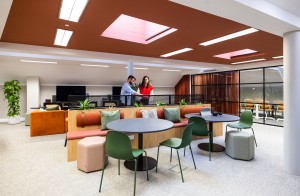 Network N, which employs 140 people in Bath, urgently needed a new showpiece office that reflected its position as a leader in the games advertising industry while also accommodating its expanding workforce.
Interaction's striking office design for the firm includes co-working spaces and collaborative areas as well as spaces for focussed working and bespoke credenza units where staff can play on their consoles.
Other key design features include a ground-floor gym and meeting rooms named after famous gaming cities, with curtains dividing spaces and agile furniture to create flexible work zones.
The 5,400 sq ft workspace has now secured Network N and Interaction a place in the finals of the SBID International Design Awards in the office design under 2,000 sq m category.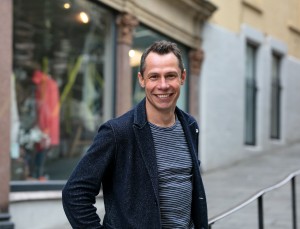 Interaction managing director Dieter Wood, pictured, said: "We're really excited to be involved in these prestigious international awards which recognise excellence in interior design and attract entries from around the world.
"Network N's growth trajectory has been nothing short of astonishing and we're proud of the flexible new workspace that we have created for them which reflects their vibrant working culture.
"They put their talented team at the heart of their business and have given them the home they need to thrive and grow – and play the occasional video game!"
Network N CEO Tim Edwards added: "We're thrilled to hear our workplace has been selected as a finalist for the SBID Design Awards.
"Our workforce has grown significantly and we've been investing heavily in our culture and equipment to ensure the best possible experience for all working at Network N, including where we work.
"At this point we enlisted Interaction, who have done a fantastic job of designing a workplace that is transforming the way we work.
"When we bring people in, whether it's clients, potential candidates or business partners, their reaction has been amazing. We're stunned by the difference it's made in terms of how the teamwork and collaborate."
Interaction, which last month became a climate positive business after removing more CO2 from the atmosphere than it put in over the past year, is working on international law firm Osborne Clarke's new 116,000 sq ft Bristol headquarters.
Other key recent projects include workspaces for Xledger, the global cloud-based finance software provider with its UK headquarters in Bristol, and FemTech business Elvie as well as GKN Aerospace's Global Technology Centre in Filton.