More than 150 businesses, private clients and friends of Withy King attended the firm's annual New Year's drinks reception in Bath recently and took advantage of the opportunity to 'meet the team'.
The annual event was hosted at Withy King's offices at Midland Bridge House and provided a forum for networking and socialising with solicitors from the firm's corporate and private client-focused teams.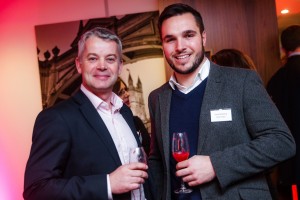 Managing partner Graham Street gave a short address followed by Jan Witt from one of the firm's charities, The RUH's Forever Friends Appeal, which funds vital equipment, research and other hospital projects.
Right: Withy King managing partner Graham Street chats to Bath Rugby's Geoff Binding.
Commenting on the event, Graham said: "We were very pleased to see so many familiar faces and to meet a few new ones. This is an exciting time for the firm, having made a number of key hires in recent months, been ranked as one of the Sunday Times Top 100 Best Companies to Work for and appointed official legal partners of Bath Rugby. We are delighted to share our success with our clients and friends of the firm who are at the heart of everything we do and whose loyalty and support continue to shape our offering."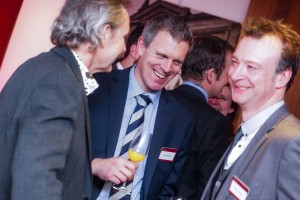 Left: Commercial property partner Paul Daniels and residential property solicitor Clive Weeks network with guests