The University of Bath's £70m global centre of excellence for ultra-low emission vehicles has reached another milestone with the unveiling of a commemorative plaque by science minister Chris Skidmore.
The Institute for Advanced Automotive Propulsion Systems (IAAPS) is due to open in 2021 on the Bristol & Bath Science Park – thrusting the West of England into the driving seat for research and development into the car engine of the future.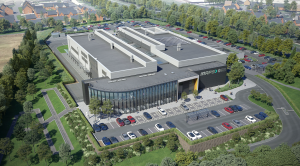 By working with industry partners – not all of them from the automotive sector – the centre is expected to support 1,900 high-value jobs.
It will also stimulate more than £67m in additional automotive research investment by 2025, creating an additional turnover of £800m for the UK automotive sector. When fully operational the centre itself will create more than 100 jobs on-site.
IAAPS will builds on more than four decades of advanced propulsion system expertise at the University of Bath. It will lead the development of future generations of ultra-low emission vehicles and attract sector-related businesses to the region, generating economic growth.
The plaque unveiling took place in The Forum building on the Science Park overlooking the site where construction work on the IAAPS will soon start.
Mr Skidmore said the centre would keep the UK at the cutting edge of the global industry for low-emission cars and help the UK build a net-zero economy by 2050.
University of Bath Prof of Automotive Propulsion, Chris Brace, said: "We are excited by the opportunity IAAPS will afford us in advancing UK automotive research and innovation. By combining some of the country's leading engineers with the world-leading equipment and specialist facilities we will have at IAAPS, this Institute will be a global centre of excellence.
"From helping to address the engineering skills shortage facing the UK automotive sector to bringing together global companies with local businesses and SMEs, IAAPS will enable the South West to become a hotbed of automotive research and innovation."
The event was attended by around 100 supporters, partners and collaborators of the university's automotive research.
The University of Bath last year bought the Science Park with South Gloucestershire Council in a joint £18m deal to realise its potential and boost the West of England's reputation as a centre of excellence for research.
Pictured, from left: University of Bath vice-chancellor and president Prof Ian White, chair of Council Mrs Pam Chesters CBE and Chris Skidmore MP, shortly after formally unveiling a commemorative plaque which will be incorporated into the finished IAAPS building