Two innovative Bath businesses have been named in a unique list of the South West's 25 most disruptive firms.
Ordoo, at number 10, was created by Bath student entrepreneur Tom Dewhurst as a time-saving solution to a traditional British pastime – queuing.
Previously known as Ordable, it enables users to browse menus, order and pay for food and drinks at cafes – saving time and giving them the opportunity to earn loyalty rewards.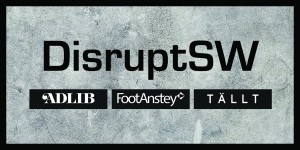 At number 12 is MoveGB – The Ultimate Gym Membership. Founded in Bath in 2013, it is the largest fitness marketplace in the UK, with activities ranging from indoor climbing walls to dodgeball to yoga available at 1,000s of venues across the UK.
The first of its kind, the Disrupt South West index recognises ventures with headquarters in the region which hold the greatest potential to influence, change or create new markets.
Produced by Tällt Ventures, recruitment firm ADLIB and regional law firm Foot Anstey, it highlights the disruptive business success stories from the South West, furthering the region's growing profile as a global technology hub.
The index contains start-ups and scale-ups from a wide range of sectors – from artificial intelligence and machine learning to 3D printing technology. Each business in the list holds the potential to influence, change or create new markets, according to its compilers.
Across the 25 ventures, 20% are using artificial intelligence and machine learning, 20% are developing cloud and 16% are using 3D technology.
The list also shows that investment into the 25 ventures has been substantial. Since 2015 they have received more than £130m in funding, with more than 80% of the total investment going into the top three ventures – Ultrahapics, FiveAI and Graphcore.
Tällt Ventures founder & CEO Matt Connolly said: "Not only is it brilliant to see local companies receiving financial backing but it cements the South West as a brilliant place within the UK for new ventures to set-up and scale their business."
The index has tracked start-ups form the region, analysing each venture against a scoring matrix to determine their disruptive potential with particular analysis on the people behind the business, the product they've created and the potential they have to scale and disrupt markets.
Ordoo, which has partnered with venues in Bath, Bristol and London, received an undisclosed amount of seed funding from SimpleWeb in October 2016, as well as other undisclosed angel investments.
The company is now working on raising awareness for the app, as well as expanding upon its venue partnerships.
MoveGB gives members the ultimate flexibility when it comes to staying fit – the varying monthly subscriptions give you access to multiple venues and activities all over the UK, and membership can easily be frozen or cancelled with no fees.

MoveGB currently has over 200,000 members and continues to grow. Their flexible and varied subscriptions not only give them an edge over individual gyms and studios, but their pricing is competitive too. CEO Alister Rollins claims that MoveGB members are "four times more likely" to stay active than those who have standard gym subscriptions.

The business received an undisclosed amount of Venture funding in March 2017. Future plans include continued rapid growth – MoveGB recently expanded into London.
ADLIB managing director Nick Dean said: "Through recent years we've continuously seen the South West region grow and transform into the thriving and recognised tech cluster it is today. This has called for us here at ADLIB to continually evaluate and adjust our own proposition to meet the demands, growing out our own digital and technology teams. Businesses are evaluating, growing and transforming, the driving force of which comes from the people within them. We're proud to be part of such a recognised region, amongst a prime line up of businesses, testament to and proof of that we're home to (and able to attract in) real talent."
Foot Anstey head of technology and partner Martin Cuell added: "It's fantastic to see the South West tech scene thriving. We're observing an abundance of new ventures and innovation across industry sectors with investment and funding available for those who seek it.
"Being part of Disrupt South West has been part of our effort to help showcase and celebrate all this great activity, so the region gets the recognition it deserves. One of the interesting challenges for the future is how we harness all the energy, enthusiasm and great news stories to support companies destined to be the next big things in the tech sector and how we ensure that innovation benefits the end consumers and perhaps even more importantly the wider community."
Click here for the full Disrupt South West list