The organisation tasked with helping shape the economic future of the West of England is hoping to attract more businesswomen to join its board to go some way to address its major gender imbalance.
Out of the West of England Local Enterprise Partnership's (LEP) 18 board members, just two are women.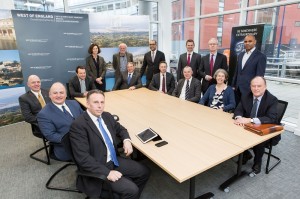 Now, as the LEP, which is led by chief executive Patricia Greer, begins the hunt for new board members, it is promising to make it more diverse by welcoming more applications from women business leaders.
It is seeking expressions of interest from business leaders who will be "inspirational, influential and have the credibility to champion the West of England" at regional, national and international level," it said.
Interested business leaders should have knowledge and expertise in the region's industry.
The LEP said, ideally, this would include key areas, such as:
Aerospace and advanced engineering

Digital creative and hi-tech

Law, finance and insurance

Infrastructure (planning, housing, transport, digital)

Skills

Business growth and innovation

Health
Current board member Katharine Finn, Bristol office senior partner at accountancy giant PwC, said: "I think a diverse range of skills, experience and voices around the table is essential – whether that's senior business members who work with large or small businesses, whether we're talking gender mix or a mix of ethnicity; it's just really vital to have a good challenging conversation so that all different views are represented."
The other woman board member Martino Burgess, associate director and head of corporate SME at Bristol law firm Gregg Latchams, added: "One of the key things I get out of being on the LEP board is a real insight into government policy nationally and how it fits into our region's economy.
"It's extremely important to have a mix of senior leadership experience and viewpoints on the board. We're a vast region with lots of different communities and it's good that all those communities are represented."
LEP chair Prof Steve West said the aim was to build a LEP board membership which secured a range of attributes, skills and backgrounds.
"We are committed to reflecting and utilising the diversity across our region; providing the broad mix of senior leadership required to ensure the continued success and growth of the West of England," he added.
The board is made up of the leaders of the West of England's four local authorities – in Bristol's case that is its elected mayor – along with the regional metro mayor and business representatives.
It meets six times a year, including one public meeting. Membership is for a minimum of 18 months or a maximum of three years – terms are agreed on appointment of the member. All the business roles are voluntary.
Pictured, top: The LEP board with chief executive Patricia Greer, standing at rear. Above, Martino Burgess