Regional estate agent and property group Andrews' group chief financial officer Nick Wright has retired after 32 years with the business.
Nick, pictured, joined Keynsham-headquartered Andrews when it relocated its head office from London in 1987.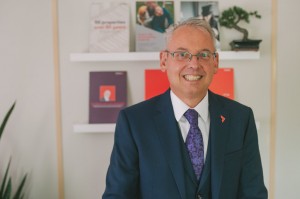 At the age of 27, he was the firm's youngest ever director and, aside from the original directors appointed when the firm was founded, he has been the longest-serving director in Andrews' 73-year history.
In addition to his main business responsibilities, Nick has been a trustee and treasurer of the charitable trusts that own Andrews, as well as serving on five of the charities that Andrews Charitable Trust (ACT) has supported over the years.
He also served as chairman of Andrews Pension Trust for 17 years, overseeing the buy-out of this liability by Legal & General in 2006. Following his retirement, he will continue as a trustee of ACT – a role he was recently reappointed to for a further three years.
Andrews group chief executive David Westgate said: "Nick's role as financial director and latterly chief financial officer, has been one of the most critical roles in the company and he has been pivotal in helping steer the business through significant changes and developments – all of which he's done with a level head.
"Most recently, he project-managed the sale of our Landmark Surveyors business and as with all the tasks he's been challenged with, he did so impeccably with absolute trust and fiduciary control. Moreover, we have consistently received positive audit reports from our independent external auditors, and this is credit to Nick's stewardship in the role.
"He will be sorely missed by the entire Andrews' team, but having worked with seven different chairmen and a total of 39 directors, his retirement is thoroughly deserved."
Nick added: "It is truly an honour to have spent so much of my career at a business as special as Andrews. There have certainly been a lot of changes, both within the business more widely in the property sector, and these mean that there's rarely been a dull moment.
"Andrews is unique within the property sector and I am confident that its approach to business will serve it well as it moves forward in increasingly changing and, at times, challenging times."
Brett Ford, who has worked with – and been mentored by – Nick for more than 12 years will continue as group financial controller with additional senior team support to ease the transition period. He recently completed an MBA and holds the ACCA accountancy qualification.
When Andrews was set up in 1946, it was structured to share a minimum of 35% of its profits each year with two charitable trusts that, ultimately, own it.
Since 1985, the business – best known for its chain of nearly 60 Andrews Estate Agent branches across the South of England – has paid out over £10m to the Andrews Charitable Trust (ACT) and Speaking Volumes, which publishes Christian books.