The co-founders of Bath-based sex toy retailer Lovehoney are to relinquish day-to-day operations of the fast-growth business next month when one of the UK's top marketers is appointed as CEO.
Ex-journalist Richard Longhurst and DJ Neal Slateford formed Lovehoney in 2002 – appropriately from a bedroom.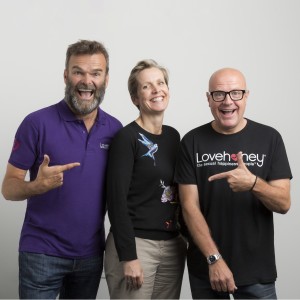 Since then the firm has grown to boast annual revenues of more than £100m. It won a Queen's Award for International Trade in 2016 and is widely credited with bringing sex toys into the mainstream.
It employs more than 200 staff at its Bath HQ and distribution site and sells a range of own label and third-party products, including increasingly in overseas markets, with the value of its exports approaching 50% of total revenues.
Now, following the acquisition of a majority stake in the business a year ago by Swiss-based private equity firm Telemos Capital, former Sainsbury's and Heineken marketing director Sarah Warby is to become CEO on September 16.
Sarah, named four years ago as one of the 25 most influential individuals in UK advertising, PR and marketing by Debretts, will lead Lovehoney through its next phase of growth, according to Telemos.
Richard Longhurst and Neal Slateford have continued to run Lovehoney since Telemos bought its stake. But while they will remain as directors – alongside Philippe Jacobs and Jacob Polny from Telemos Capital – they will step down from day-to-day operations.
In a statement Telemos they said: "When we started Lovehoney 17 years ago we never imagined it would grow to be a £100m-turnover business and help so many people around the world have more fun in the bedroom.
"We're thrilled that Sarah is joining Lovehoney to take the business to the next level. Having someone with her quality and breadth of experience is a real asset to our company and we look forward to watching Lovehoney develop further under her leadership."
Sarah Warby spent four years as marketing director at Heineken before joining Sainsbury's in the same role. In her five years at the supermarket giant she directly led a team of 200-plus marketers.
She said today: "Lovehoney is a company with an enviable brand reputation both in the industry and with its customers.
"I'm excited to be part of the next chapter of this amazing growth story and believe we can fulfil Lovehoney's ambitions for global category leadership.
"I'm looking forward to joining and getting to know the many talented people that have helped Lovehoney achieve its impressive growth so far."
Pictured: New Lovehoney CEO Sarah Warby flanked by co-founders Richard Longhurst, left, and Neal Slateford