Bath-based Artificial Intelligence pioneer firm Cognisess has signed a deal potentially worth millions of pounds to supply its expertise to the second-biggest recruitment company in China.
Beijing-based Zhaopin, which operates online and has more than 140m candidates on its books, called on Cognisess to help it better understand the best roles for students.
Cognisess' Artificial Intelligence (AI) HR tools streamline selection with time-saving features such as job pages, real time analytics and profiling tools.
The deal was secured with the help of Yang Ding, founder of Bath-based New Silk Road Digital, who helped translate and close the deal after meetings in China.
Yang Ding is Bath's representative for the Bristol and West of England China Bureau while Cognisess is a corporate member.
It is the biggest deal struck by the Bureau in its 21-year history.
Cognisess chief executive Chris Butt, pictured above, said: "Zhaopin is the equivalent of a major high street name in China and will be using our products to better understand who people are and where they fit.
"It allows lots of people who might have been written off to get noticed. It removes any consideration on gender, religion, ethnicity and focuses on the top three inches – the brain. That is what employers are interested in.
"Cognisess has welcomed the help and support that the Bureau – and Yang Ding – has given us. It's good to know there is a support mechanism, fostering links and goodwill. We are much more switched on to the opportunities in China."
Yang Ding works with the bureau to help broker deals, He provided a translation service for Chris Butt as his team negotiated with Zhaopin.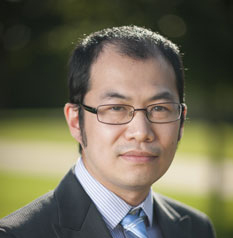 Yang, pictured, said: "I have been working with Chris for more than six months to get this deal sealed.
"My work involves localising the Cognisess system into Chinese, joining many [Chinese social media platform] WeChat meetings between Cognisess and Zhaopin as an interpreter, translating marketing materials, developing relationships with Zhaopin, checking background information about Zhaopin and advising on setting up IT infrastructure for China market.
"I am very happy to see all the hard work have been paid off."
Chris Butt said working with somebody who spoke Mandarin had been enormously helpful.
"Not speaking the language is a big barrier. Yang Ding has helped us get the deal closed. It has taken a year to do it but it shows it is possible to go out there and get some deals done. We need to build on that," he added.
Bureau chief executive Dianne Francombe, pictured, described the deal as a game-changing achievement for Cognisess and a major coup for the bureau.
"We have strived to set up connections with China and help businesses make inroads into the vast Chinese market – as well as enabling businesses there to reach out to firms in the West Country," she said.
Cognisess provides a market-leading software platform that helps businesses identify, nurture and retain the workforce talent they need to remain competitive.
Its people assessment, measurement and reporting tools are used by HR and recruitment professionals to make better informed, data-led people resourcing decisions.
The firm is recognised as an innovator in the rapidly evolving science of AI and predictive HR analytics.