Young people struggling with challenges ranging from bullying and exam stress to suicidal thoughts and bereavement are to receive support in special room named after Bath-based specialist software house Mayden.
Charity Off the Record Bath and North East Somerset decided to recognise Mayden's outstanding support, including introducing its iaptus CYP software earlier this year across its therapy and counselling services, by naming the room in its centre on Manvers Street.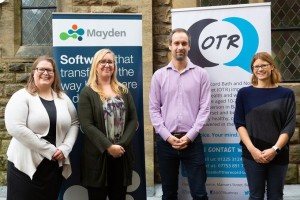 Iaptus CYP is the leading software system for children's mental health service providers.
Off the Record said for it, and the young people it serves, the room was much more than a therapy space. It will change lives for the better
It will be a safe, confidential space for hundreds of young people every year to reach out and get unconditional support, no matter the severity of the issues they face.
Off the Record has been providing mental health care to local young people for more than 25 years and last year supported 2,000-plus young people.
Its free counselling and listening support services have become a vital resource and – thanks to the support of Bath businesses such as Mayden, it is reaching more young people than ever.
Off the Record trustee Alice Payne said: "We wanted to give extra special thanks to Mayden as its team has been really supportive of our drive to become both more effective and efficient in the services we provide to young people.
"The iaptus CYP system is already having a transformative effect on the way we support young people."
Mayden director Fiona Dawson said: "We're really proud to be able to support Off the Record Bath and North East Somerset and feel privileged to work with the talented and dedicated staff here.
"It's been great to hear from the team about how iaptus CYP is helping them in their work with young people and we're looking forward to continuing to grow our relationship to help benefit those in the local area."
Mayden is driven by a mission to create digital technology that changes what's possible for clinicians and patients. Iaptus CYP enables practitioners to efficiently record and retrieve data, freeing up their time for contact with the children and young people in their care.
For more information about Off the Record Bath and North East Somerset, visit offtherecord-banes.co.uk
Pictured: Off the Record and Mayden team members mark the room naming at Off the Record's office. From left, Mayden director Fiona Dawson, Mayden account manager Lindsey Baker, OTR director Phil Walters and OTR trustee Alice Payne.Photo by Suzy Slemen