Independent menswear retailer Suave Owl has opened its first Bath store, relocating to the city from Keynsham.
The firm has used a £40,000 funding package from NatWest, alongside personal investment, to lease the Grade-II listed unit on Milsom Street – which is more than 10 times the size of its former Keynsham shop – and complete an extensive fit-out.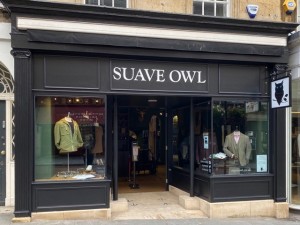 Over the past three months, founders Anthony and Jessica Harvey, pictured below, have transformed the three-story building into a showroom for their selection of men's clothing and accessories, as well as setting up headquarters for the lifestyle brand upstairs.
The couple launched the business in 2017 to provide men of all shapes and sizes with quality suits, shirts, shoes and accessories for everyday wear, as well as weddings and special occasions.
The Keynsham store's popularity meant turnover doubled in its second year. It has gone on to become an awarding-winning business.
Anthony said: "Keynsham was the ideal location to establish our business, but we wanted to expand and relocate to a location with increased footfall.
"Thanks to the funding from NatWest, we have been able to secure a central position on one of the best shopping streets in the UK.
"We are excited to build our customer base from our new Bath store, grow our team and expand our offering for both men and women in the coming months."
Last year Anthony joined NatWest's Accelerator Hub in Bristol for mentoring and advice on scaling-up Suave Owl.
NatWest relationship manager Ian Dudley said: "Suave Owl has become a number one destination in the area for men's clothing for special occasions and the funding and support from NatWest has enabled the business to target the next stage of growth."