Bath-based PR agency Highlight's campaign for last year's successful Minerva's Owls of Bath public arts trail has landed it three Gold awards at a prestigious ceremony to celebrate the South of England's public relations industry.
The agency landed the hat-trick at the regional Chartered Institute of Public Relations (CIPR) PRide Awards – going one better than its two trophies last year. It was also shortlisted in two other categories.
The 61 Minerva's Owls sculptures, which were spread across Bath and in North East Somerset, delighted tens of thousands of Bath residents and visitors for three months last summer. The sculptures were later auctioned, raising nearly £140,000 for local charities.
The campaign earned Highlight PR, which this year celebrates its 20th anniversary, the Gold awards in the Not-for-Profit, Arts, Culture or Sport Campaign and Regional Campaign of the Year categories.
Judges praised the campaign, saying that rather than re-use an existing successful campaign, Highlight investigated the impact other city sculpture trails had on the local economy before creating a bespoke regional one.
"They used their small budget to generate a carefully targeted campaign, appealing to Bath businesses, schools residents and tourists. Their impressive traditional and social media coverage boosted visitor numbers and raise money for charity," they said.
Highlight was also a finalist in the Best Use of Social Media and in the Driving Growth in a Challenging Market and Integrated Campaign categories for its work with children's character-based brands Sylvanian Families and Miffy respectively.
Highlight won Gold in the Best Consumer Relations category at the PRide Awards last year for its launch of the Sylvanian Families Town – the largest product launch in the toy brand's 33-year history – and Silver in the Integrated Campaign category for a year-long focused repositioning of Miffy as a design-led baby gift and nursery interiors brand.
More than 190 PR professionals attended the CIPR Pride awards at the Bristol Marriott Hotel City Centre.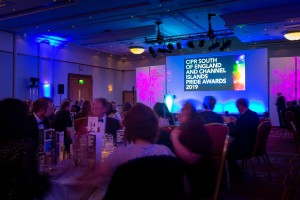 The CIPR said: "The depth and breadth of submissions never ceases to impress the judges and that is again the case this year with a wonderful array of entries from regular contributors and new entrants.
"Year-on-year, competitors push the boundaries as practitioners embrace new ideas and routes to market, demonstrating the exceptional quality of work that is on display across the South of England and Channel Islands."
The awards were sponsored by Kantar Media, Specialist Speakers, Moxie & Mettle and Flicksbox.