Additional support announced shortly before Christmas by Chancellor Rishi Sunak for businesses impacted by the Omicron variant were welcomed by business groups as well as Bath & North East Somerset Council – although some in the hospitality sector dismissed it as
"
too little, too late
"
.
The £1bn package is mostly aimed at hospitality and leisure firms, which had been hit hard by Christmas parties being cancelled and a reluctance by many people to go into pubs, bars and restaurants.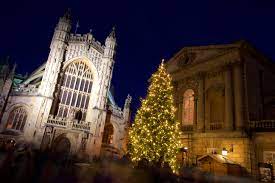 However, while it includes business grants and help with sick pay, the furlough scheme has not been brought back.
Deputy council leader and cabinet member for resources Richard Samuel said: "This will be welcome news for so many businesses, particularly in hospitality, which have been so badly hit by the rapid rise in Covid due to the Omicron variant.
"We have been wating to find out more about the Omicron Hospitality and Leisure Grant and now that we have it we will work as quickly as we possibly can to set up an application process to make sure businesses in Bath and North East Somerset, that meet the eligibility criteria, get the funding they desperately need.

"
Tim Rumney, chief executive of the Best Western hotel chain, which includes Bath's Limpley Stoke Hotel and employs 10,000 staff across the group, dimissed it as a "dud cracker on Christmas Day" and called for a return to furlough.
"It's just so disappointing and underwhelming in every sense. It doesn't go far enough in our opinion, it doesn't go deep enough and it's too little too late," he said.
And the Night Time Industries Association's chief executive Michael Kill added: "Every pound of help is much needed. But this package is far too little and borders on the insulting."
He said night clubs and bars were being "crucified" at their most important trading period.
Adam Marshall, the director general of the British Chambers of Commerce, said the measures were "a positive starting point" that would provide "some welcome respite" to firms hardest hit by the latest Covid wave.
But British Beer & Pub Association chief executive Emma McClarkin said the package was welcome at what was an extremely challenging time for pubs and brewers.
"It will be a vital lifeline for many and will help compensate businesses for the dramatically reduced trade in the run-up to Christmas," she said.
The government package includes:
One-off grants of up to £6,000 per premises for businesses in the hospitality and leisure sectors, plus more than £100m discretionary funding will be made available for local authorities to support other businesses

Cover for the cost of Statutory Sick Pay for Covid-related absences for small and medium-sized employers across the UK

A further £30m to be made available through the Culture Recovery Fund, enabling more cultural organisations such as theatres to apply for support during the winter.
The council is setting up an application process and reminding businesses to check its Covid support for business web pages where they will be able to apply for support once the system is in place.

it was waiting on further detail before it could set up any payment arrangements.