Work has started on a £3.5m upgrade of Bristol Airport's air traffic control tower, the latest in a series of improvements on the site.
The 20-year-old facility tower will undergo extensive renovations, improving its appearance and functionality while also meeting the latest building standards and regulations.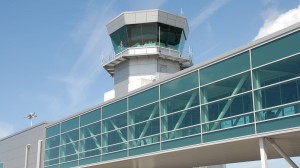 It will also incorporate environmentally friendly elements such as energy-efficient lighting, heating and cooling system reducing the building's carbon footprint in line with the airport's overall aim of becoming the UK's first net zero airport by 2030.
The investment will provide a significantly improved working conditions for the National Air Traffic Services staff and engineers who provide round-the-clock air traffic services to the airport.
The project forms part of airport's overall £60m transformation, pictured below, to increase its capacity from 10m to 12m passengers a year, work on which started this summer.
Bristol Airport infrastructure director Andrew Goodenough said: "This project represents a significant milestone in our efforts to modernise our air traffic control infrastructure and continues to ensure the highest levels of safety and efficiency.
"We have worked closely with the air traffic control team and business contract partners to bring these state-of-the-art plans to life.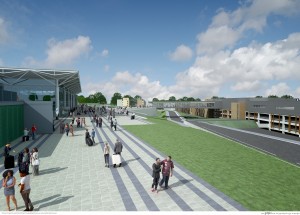 "It will be a complex project working with the various teams to ensure the day-to-day operation is disrupted as little as possible, whilst the much-needed refurbishment take place."
The new £60m public transport interchange hub and multi-storey car park is the biggest development on the site since the current terminal opened in 2000, when annual passenger numbers were just 2m.
The development, which will take 18 months to complete, also includes a glazed bridge link between the car parks and terminal, new waiting area and rest facilities and an enlarged drop-off and pick-up area.
The work has started just months after the High Court's decision to dismiss a legal challenge from environmental protestors against the airport's expansion, which will also involve expanding the terminal building.
More than 9m passengers are expected to use the airport in total this year – nudging its current capacity of 10m for the first time since 2019.
Bristol has recovered faster from the impact of the Covid-19 pandemic faster than most other UK airports.
Over the past year it has attracted a number of new operators and is also benefiting from the introduction of new destinations from its two main budget airlines Ryanair and easyJet, increased frequency on some scheduled routes and a major increase in the summer holiday charter flights.