Bath's Clean Air Zone, introduced in March last year, has halved the number of high-emission vehicles in the city centre and driven down its previous high levels of nitrogen dioxide (NO2) pollution, according to the first major report into its impact.
Bath and North East Somerset Council, which brought in what was then the first charging zone of its kind outside of London, said the research proved it was working to reduce air pollution.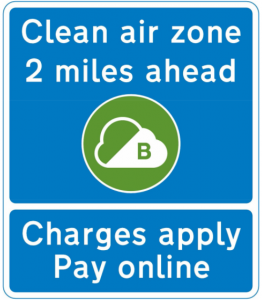 The report, which goes before the council's climate emergency scrutiny panel on Monday, says there has been a "clear decreasing trend" in NO2 concentrations across all 123 monitoring sites set up around the zone.
However, it also says three sites – at Walcot Parade, Wells Road and Dorchester Street – continued to exceed the EU and UK limit value of 40 micrograms per cubic metre of air (μg/m3).
While this is down on the 11 sites that exceeded the limit value in 2019, the three remained a concern, the council said, adding they be carefully monitored.
The zone charges non-compliant taxis, vans, buses and larger commercial vehicles to enter – but not private cars or motorbikes. The report says the number of chargeable, polluting vehicles which do not meet minimum emission standards had been cut from 1,148 a day when the zone started to 550 a day, on average, last December.
This was despite traffic returning to near pre-pandemic levels in the second half of the year.
A financial assistance scheme – which has funded £9.4m of interest-free finance and grants to local businesses and individuals affected by charges – had helped replaced around 720 of the city's most polluting vehicles with cleaner, compliant ones, according to the report.
IThe council has received £5.6m in revenue from zone charges – all of which is being used to cover initial investment and future operating costs.
Once these are sufficiently funded, any surplus income would be allocated to support the council's sustainable transport initiatives.
Council deputy leader and cabinet member for climate and sustainable travel, Cllr Sarah Warren, said: "We are heartened to see this data from the zone's first year of operation, and the difference it's making to air quality and therefore our health.
"Three sites remain a concern for us, but these are being monitored, and the overall direction of travel looks good, with air quality at every monitoring station in Bath improving on baseline figures.
"It's also great to see the city's most polluting vehicles being replaced with cleaner ones. While there is clearly work to do, the zone is having its intended effect of changing behaviours and improving air quality, so I'd like to thank residents for their support,
"We know that high levels of NO2 are a public health risk, especially for people with existing heart and lung conditions. It can also cause fatal asthma attacks and affect children's lung development. What's been achieved is therefore very important."
Key air quality findings from the report, compared with baseline figures from 2019 (pre-Covid), show:
a decreasing trend in NO2 concentrations at all sites in Bath
a 21% reduction in annual mean NO2 concentrations within the zone
a 22% reduction in annual mean NO2 concentrations in the urban area outside the zone
8 fewer sites exceeding the limit value of 40 μg/m3 (as an annual mean).