Two projects by Bath-based built environment design practice Nash Partnership have been shortlisted in a prestigious national awards scheme.
The St Paul's project in Cheltenham – a consultation-led masterplan for Cheltenham Borough Homes – is competing in the 'regeneration' category of the Placemaking Awards while the Kingston Mills scheme in Bradford on Avon is in the running for the 'best use of heritage' award.
The Placemaking Awards, held in association with Planning and Regeneration & Renewal magazines, recognise and publicise projects, plans, people and organisations that are making places better.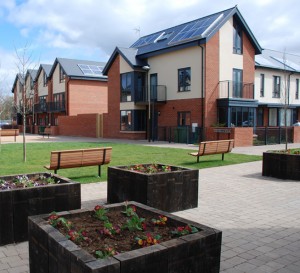 The St Paul's project, pictured, involved a partnership between Cheltenham Borough Homes, Cheltenham Borough Council, local residents, police, other stakeholders and Nash Partnership to regenerate the area by renovating its existing housing stock, providing 48 exemplar new homes and community facilities.
The Kingston Mills scheme delivered a high-density, mixed-use riverside quarter for Bradford on Avon with 174 new homes (including a number of affordable homes), offices, shops, cafes, restaurants and public spaces. It has proved to be a regeneration catalyst for the historic town.
The Placemaking Awards are open to individuals, organisations and partnerships involved in placemaking, whether through planning, regeneration, urban design, economic development or community renewal.
The winners will be announced at a ceremony at the British Museum in London on January 28.