A project carried out by Bath-based built environment planning and design practice Nash Partnership which transformed a run-down area of Cheltenham has won a national award.
The St Paul's scheme, consultation-led masterplan for Cheltenham Borough Homes, came top in the Exemplary Planning to Deliver Housing category of the Royal Town Planning Institute (RTPI) Awards for Planning Excellence.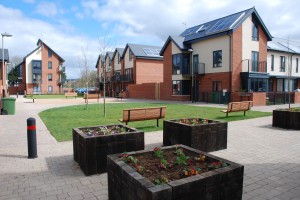 The project involved forming a partnership between Cheltenham Borough Homes, Cheltenham Borough Council, residents, police, other stakeholders and Nash Partnership to renovate the existing housing stock and provide 48 new homes and community facilities to regenerate the area. Nash Partnership provided planning, design and consultation services.
The project has also been shortlisted for an RTPI SW Award for Planning Excellence, the winner of which will be announced next month.
Nash Partnership urban design director Amanda Taylor, who designed the scheme, said it had "radically reconfigured the street network while resolving many issues in the immediate area".
She added: "The project's success was not just about using exemplary planning to deliver great housing, but also about putting local people at the heart of the process to bring about effective regeneration."
Director of environmental and regulatory services, Mike Redman, said: "This award recognises the hard work over a number of years of lots of people – local residents, staff from the council, Cheltenham Borough Homes and Nash Partnership. It is a well-deserved reward for an outstanding partnership approach, which has had a really positive impact on the quality of life of many people. The benefit of this scheme to the St Paul's community will be felt for generations to come."
Cheltenham Borough Homes chief executive Paul Stephenson said: "This award is great news for all those involved who created this successful development which has regenerated and improved the St Paul's community, offering high quality and attractive housing.
"This regeneration has had a big impact for residents and it was their vital input that shaped the final designs and created a community where people are proud to live in now and in the future."
The RTPI Awards for Excellence are held annually to highlight exceptional examples of planning and celebrate the contribution that planners and planning make to society, inspiring others to achieve the same high standards. Projects on the shortlist have been recognised for their national contribution to planning and demonstrate how significant schemes can be delivered speedily through the planning and other consents systems.