The launch of Bath TV, the city's innovative new digital TV platform, and a demonstration of the new BlackBerry Z10 smartphone were the attractions at the latest in the Circo Series of business networking evenings supported by Bath Business News.
Guests at the event, sponsored fast-growing Swindon-based IT and communications firm Excalibur Communications, were treated to a presentation on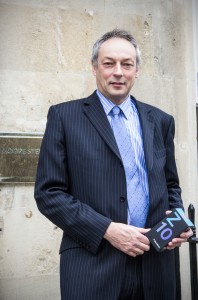 Bath TV by director Doug Kirby.
The TV platform is bringing unique coverage of local news and events to an online audience. A sister company to Bath Business News and Bath Business News TV, it aims to break new ground in digital marketing opportunities for local firms.
The demonstration of the new BlackBerry Z10 smartphone, launched just days earlier, came with an opportunity to win one on the night.
The Z10 takes the business phone to a new level with features such as BlackBerry Balance that keeps work and private life separate.
Excalibur has achieved the highest level of partner status with BlackBerry, so is well placed to offer businesses advice on how to implement devices in the workplace.
Andrew Vince, a partner in the Bath office of accountants, tax advisors and financial planners Moore Stephens, was the lucky winner of the phone. Andrew, pictured, said: "I was delighted to win. In today's fast-moving world, the use of current technology is prominent in ensuring clients are delivered the solutions they need promptly and efficiently. The Z10 will be a valuable aid in achieving that."
The event was the third in the Circo Series staged by Bath's Circo cocktail bar and lounge.