A group of businesses and charities have teamed up to launch a scheme that means families using Bath Foodbank can now take new books home for their children alongside their groceries.
Bath Bookbank's launch follows publication of a survey revealing that nearly one-in-five children aged from five to eight do not have a single book of their own at home.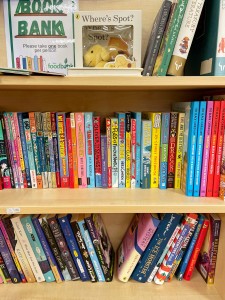 The idea for the Bookbank came from Taste of Bath, the hamper business that showcases independent food and drink.
It has partnered with Bath Foodbank since 2021 and since last September has donated £1 to the Foodbank for every hamper sold.
While most of this goes towards emergency food parcels for people in crisis, the Foodbank team knows that extra gestures can make a huge difference – so Taste of Bath has also helped with money for toy vouchers at Christmas, ice creams in the summer holidays and small gifts for Mother's Day.
Last summer Taste of Bath reached out to Bath Children's Literature Festival to talk about possible ongoing projects – and the idea of the Bath Bookbank was born, with city bookseller Mr B's Emporium quickly coming on board to help.
Taste of Bath and Mr B's have been joined by Bath Festivals and food bank provider Genesis Trust to set up a bookbank at each of Bath Foodbank's three locations, offering free, new books for children and teens to take home and keep.
One mum of three using the foodbank for the first time also chose three books for her young children from the bookbank, telling staff: "I've been struggling a lot over the last few months and getting help from my family, but I can't keep asking them for more money, so I had to come to the foodbank.
"I was worried what people would think of me but it's not like that at all. The books are great, my children will love them.
"I'm not able to buy them things as all my money goes on things we need, so it will be nice to treat them after school."
The Bookbank's books, which range from first board books to young adult novels, are selected by Mr B's and sold by the firm with a hefty discount on retail prices.
The remainder is funded by Taste of Bath's donations, with its corporate client Knorr-Bremse Rail Systems (UK) sponsoring the trollies used by the three bookbanks.
Mr B's founder Nic Bottomley said: "The joy, escapism and companionship that books can offer, to young readers and adults alike, should never be underestimated, which is why the foodbank's initiative in having books available to be discovered and taken away is so brilliant and vital."
Meanwhile, Bath Children's Literature Festival has been able to donate newly released titles directly, thanks to its connections with children's authors.
Bath Festivals development manager Louisa Oldfield said: "Everyone should have access to books, ideas and stories, no matter what their background or circumstances – which is why we're delighted to support the Bookbank initiative."
Bath Foodbank manager Grainne Moher described the bookbanks as a positive addition to the foodbank.
"People are really making the most of it and the books are flying off the shelves!" she added.
"Almost every parent and adult visiting the foodbank has welcomed browsing the book trollies, which also really help make our centres feel more welcoming.
"Visiting a foodbank is not always easy for someone, particularly if it's for the first time. We always try to make our centres a warm and comfortable space and having these lovely books on offer definitely makes a difference."
Taste of Bath managing director Helen Rich said a common theme in Bookbank's partners meetings with the Foodbank was the idea that 'food is not the only sustenance we need to keep going'.
"While we're incredibly proud to fund the emergency food parcels, working with the Foodbank has given us the opportunity to learn a lot more about other support that's also needed," she added.
Bath schools are also now getting involved, running their own campaigns to collect new books for the Bookbank.
Pictured, centre: Olivia Sladden, community, events & Bath Foodbank facilitator, Genesis Trust, cuts a ribbon to launch Bath Bookbank watched by, from left, Taste of Bath managing director Helen Rich, Genesis Trust community & events manager Hilary Long, Knorr-Bremse HR operations manager Helen Walsh, Bath Foodbank manager Grainne Moher, Mayor of Bath Rob Appleyard, Taste of Bath operations manager Jo Cox and Knorr-Bremse HR assistant Stacey Amoroso
Above: Browsing the titles, from left, Left to right: Grainne Moher, Helen Rich, Mayor of Bath Rob Appleyard, Bath Festivals development manager Louisa Oldfield and Stacey Amoroso