Women who have a job interview but no appropriate outfit to wear to it can get help from a new Bath charity.
First Impressions has been set up by Dr Jane Ellis-Brush, a lecturer in the University of Bath's School of Management, with the aim of opening up a range of high-quality workwear donations for women to choose interview clothes as well as outfits for the early days of a new job.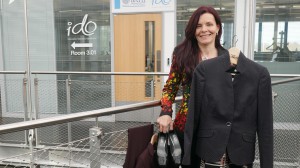 Dr Ellis-Brush, pictured, believes this will help them feel more confident and prepared for their interview and so give them the best chance of job-seeking success.
Having moved to Bath earlier this year after working overseas for a global bank, Dr Ellis-Brush realised she no longer needed most of her extensive corporate wardrobe.
She said: "We know that interviewers are prone to making snap decisions on a candidates' employability and the right outfit can be transformative in terms of confidence and self-belief.
"When we moved to Bath and my work clothes came out of storage, I suddenly thought how great it would be if others, who have less opportunity, could access a range of outfits for interview.
"We want to work with local organisations to have a positive impact on the careers of young women, and women returning to work. We're offering a tailored service to focus on building inner confidence through wardrobe selection and interview coaching."
Dr Ellis-Brush and School of Management colleague Nicola Lloyd are now focussing on making connections with agencies and organisations in Bath as well as sourcing locations for clothes storage and finding a venue to host a pop-up event in the next six months.
The project will at first focus on giving women access to high-quality clothes and accessories before going on to match women with a mentor to discuss their goals and help them prepare for interview.
Dr Ellis-Brush added: "I've been really amazed by the number of people in Bath who want to help us with our project and are willing to give their time, energy and expertise.
"The response has been hugely inspiring and I am very grateful to the people and organisations who are making it possible, including 3SG Bath, Bath Women's Fund, Mercy in Action and St John's Foundation, who have given us our first grant to help us get plans off the ground."
First Impressions is keen to hear from people who would like to donate clothes, have ideas about storing them or just get involved, Anyone interested should visit https://1stimpressions.org.uk/ or email Jane@1stimpressions.org.uk.