The West of England Academic Health Science Network (AHSN) has appointed its first director of programmes after receiving confirmation of a new five-year licence from NHS England.
The AHSN operates as the local 'innovation arm' of the NHS and supports the spread and adoption of proven technologies across health and care.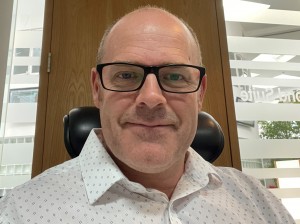 Based in the Future Space innovation hub on UWE Bristol's Frenchay campus, it is one of 15 AHSNs established by NHS England in 2013 to support the spread and adoption of proven innovation in health and care services.
The West of England AHSN brings together the local health service community, industry, higher education, research bodies, patients and the wider public to work in partnership in an area that covers Bath & North East Somerset, Bristol, North Somerset and South Gloucestershire, Gloucestershire, Swindon and Wiltshire. Its new licence runs until to 2028.
New director of programmes Peter Carpenter, pictured, will lead an integrated team responsible for delivering a broad portfolio of programmes spanning all stages of the healthcare innovation pipeline from discovery and development to deployment, aligned to both national and local priorities.
He is as an experienced executive director with more than 20 years' experience working in transformation, innovation and operational delivery in health and social care systems. He has worked at board level in Kent Surrey Sussex AHSN for several years.
Prior to that, he worked in various operational and innovation-focused roles. These included leading the improvement team at St George's University Hospitals NHS Foundation Trust in London; acute and community-based operational management; addiction, sexual health and prison healthcare services; procurement and contracting; commissioning; transformation; and training.

He has also lectured at the University of Surrey for many years on innovation adoption and quality improvement approaches.
West of England AHSN chief executive Natasha Swinscoe said he brought an in-depth knowledge of the AHSN Network, as well as significant experience as a director working in the complex innovation ecosystem of the NHS.
"Peter is committed to delivering impact through partnership and collaborative working and is passionate about quality improvement and the spread of innovation into practice.," she added.
Peter, who takes up his new role on Monday, September 18, said: "I am excited to start in the role of director of programmes and really look forward to understanding local system priorities and how we can support delivery of these, as well as continuing to deliver impact as an AHSN as we move into our new licence period.
"My immediate tasks will be to meet with colleagues across the systems and constituent organisations, to listen and shape our delivery to best respond to our stakeholder needs and priorities."