YTL Hotels, part of the Malaysian YTL conglomerate that owns Wessex Water, has taken over the operating contract of Bath's Thermae Spa.
The deal, announced last summer, comes ahead of YTL Hotels opening its nearby 5-star Gainsborough Bath Spa Hotel later this year. Bath and North East Somerset Council will continue to own the Thermae Spa building and the rights to the spa waters.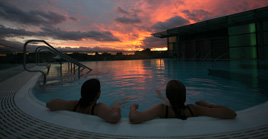 YTL said today the jobs of all 170 staff employed by the spa's previous operator Thermae Development Company would be safeguarded.
It said the deal would consolidate Bath's position in the UK and develop its standing as one of Europe's leading spa destinations.
The Thermae Spa taps into Bath's naturally warm, mineral-rich spa waters, which feed a spectacular open-air rooftop pool. It also has a range of aroma steam rooms and offers more than 40 spa treatments and packages.
Henk Verschuur, who has been involved with the successful operations of Thermae Bath Spa, said: "This heralds the start of a very exciting future. I am extremely proud of what we have achieved at Thermae Bath Spa since opening and am confident that its future is in safe hands."
Chair of Bath Hotel and Spa Ltd Colin Skellett, who also chairs Wessex Water, said: "This represents a further major investment by YTL and demonstrates their long-term commitment to Bath.
"YTL Hotels has worldwide experience in managing spas and hotels and looks forward to making a positive contribution to the future wellbeing of Bath. The strong Thermae Bath Spa brand, alongside the new 5-star hotel and spa will offer choice and add value to both businesses."
Council leader Paul Crossley added: "This is great news for Bath. It is a statement of confidence in the city and fulfils our ambition of boosting the local economy and securing jobs. It is a key element in the vision for Bath as a leading spa destination and an important building block in the creation of a spa quarter in the city."
YTL Hotels owns and manages a resorts, hotels, and spa villages in Malaysia, Thailand, Indonesia, China, Japan, France and the UK.
The 99-room Gainsborough Bath Spa hotel will open this summer and will be the only hotel in the UK with access to natural thermal waters. It will also include a top-quality restaurant, private dining and conference facilities.
Pictured below at the Thermae Spa, from left: Henk Verschuur, Thermae Bath Spa; Dato Mark Yeoh, executive director YTL Hotels and Resorts and Colin Skellett, chair of Bath Hotel and Spa Ltd