Second Mountain Comms, the Bath-founded ethically driven PR consultancy, has a refreshed its brand identity and move to new studio premises to mark two years in business.
The specialist agency was launched by chartered PR practitioner Ben Veal in July 2020 after he unexpectedly lost his job in the wake of the UK's first lockdown.
Now the business, which works with purpose-driven companies and charities, has unveiled a refreshed brand identity while also relocating to the Glove Factory Studios in Holt, near Trowbridge, as it looks set to fuel its creative and collaborative opportunities.
Ben, pictured below, who is acting South West chair of the CIPR (Chartered Institute of Public Relations), said: "Now is the right time to evolve the business and build on the foundations laid during the pandemic.
"Establishing a consultancy during such surreal times will always be a big part of my story – I'm very proud of what's been achieved against the odds – but now the ambition is to take the business forward with clear intent and investment and really commit to delivering on our mission of helping good people do good through meaningful comms support."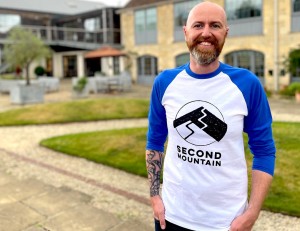 Since its launch, Second Mountain has delivered strategic and meaningful comms support to a host of local, national and international clients, including the Charlie Waller Trust – one of the UK's leading mental health educators – Wiltshire-based humanitarian charity People against Poverty and Business against Poverty, the ethical movement of philanthropic business leaders.
With 20% of its activity delivered pro-bono, the agency's first birthday was marked by pledging the funds to sink a borewell in India while more recently it supported the inaugural Co-forest carbon offsetting initiative by planting 50 sq m of trees at its site on the outskirts of Bristol.
Ben and Second Mountain have also won a clutch of awards. Ben received the 'Mark of Excellence' for Independent PR Practitioner of the Year at the 2022 CIPR Excellence Awards and Gold in the same category at the 2021 CIPR Pride Awards for the South of England and Channel Islands.
Meanwhile, the business was named 'Start up of the Year' at the 2022 Creative Bath Awards, was a two-time Bath Life Awards finalist and was a finalist in the social enterprise category at the 2022 Small Awards.
Ben said its 'purpose before profit' ethos was driven by one mission: to help good people do good by sharing their stories with the audiences that matter most to them.
"Second Mountain's new home at the Glove Factory is the perfect fit for a business that is just as focused on promoting real work/life balance as it is on delivering impact for clients," he added.
"The pandemic showed the immense value that green spaces can play in our collective wellbeing and productivity; ready access to nature is pivotal to providing me with the energy I need to deliver as a trusted and ethical PR professional."
Second Mountain provides its clients with a full, integrated service in partnership with key creative partners: from PR and strategic copywriting to media training, brand consultancy, photography and UX design.