Craft brewery The Wild Beer Co, which ceased trading shortly before Christmas, has been bought out of administration, with its new owner promising to honour the subscriptions and discounts available to its members and former shareholders.
Wild Beer, best known for its unusual approach to brewing and the quirky-flavoured beers that came from it, went into administration in December, blaming "a number of adverse trading conditions".
In 2017 the brewery based near Shepton Mallet, raised £1.76m from around 1,900 investors via crowdfunding and to build a new brewery, develop its barrel ageing – which gave its beers their unusual flavours – and grow the restaurant side of the business.
These shareholders, along with members of its Secret Cellar Club – which offered discounts and other benefits – had feared losing out when Wild Beer was sold by its administrators.
But new owner Kent-based Curious Brewery said it intended to honour the subscriptions and regular discounts available to current members of Wild Beer Co's Secret Cellar Club and previous shareholders.
It is also to transfer production from Wild Beer's base to its state-of-the-art brewery in Ashford, pictured below, which opened in 2019 – two years before by a team led by current chairman Mark Crowther and backed by Risk Capital Partners – the private equity firm led by serial entrepreneur and former Pizza Express and Channel 4 chairman Luke Johnson – bought the business.
Curious's beers and ciders are served across the UK in top restaurants, hotels and pubs, luxury stores including Harrods, supermarket group Waitrose and specialist drinks retailer Majestic, as well as landmark venues such as The Royal Opera House.
Curious Brewery chairman Mark Crowther said: "We are delighted to be collaborating with some of the original team from Wild Beer Co to maintain the original innovative and creative spirit of that business.
"Adding their delicious craft beers to our stable of award-winning premium brands, Wild Beer Co's range fits perfectly alongside our existing portfolio, delivering a range of interesting and differentiated beers."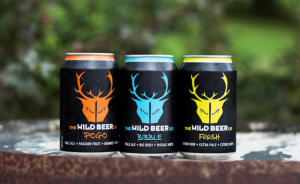 He said the acquisition of Wild Beer brought many positives, including high-quality beers and distinctive brands, impressive distribution in the on and off-trade, as well as a significant direct-to-consumer e-commerce operation.
"This new chapter for Wild Beer Co will bring some stability, placing the business on a sure footing," he added.
"For Curious, this is an important step in our journey to become one of the UK's leading brewers of specialist, premium beer and ciders."
Wild Beer Co's portfolio – led by its flagship brew Wild IPA – will now sit alongside Curious' premium English lager, Curious Brew which is made with Champagne yeast, and its award-winning Curious Session IPA and Curious Apple cider.
Wild Beer Co was launched by Andrew Cooper and Brett Ellis in 2012 with the strapline 'Drink Wildly Different'.
It grew rapidly through its creative take on brewing with its beers fermented by wild yeasts and aged in old barrels . It also exported to 22 countries – including the US, Australia, Russia and Japan – and opened venues in Bristol's Wapping Wharf indie food-and-drink hub and in Cheltenham.