Bath legal and financial planning firm Mogers Drewett has strengthened its residential property team with the arrival of a new partner and an internal promotion.
The firm, which also has offices in Wells, Sherborne and Frome, has appointed experienced residential property lawyer Samantha Cook as a partner while Jessica Gregory becomes residential business development manager.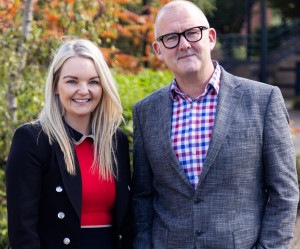 Samantha, pictured with Mogers Drewett managing partner Sean McDonough, has joined from Dorset-based Farnfields Solicitors, where she was a partner.
She specialises in residential property sales and purchases, remortgages, unregistered land and shared property ownership.
Based in Mogers Drewett's Sherborne office, she will help clients across the region.
Her appointment follows the arrival earlier this year of fellow residential property partner Robin Phillips, who is part of the firm's conveyancing team in Bath. Robin has more than 30 years' experience working as a solicitor in the region.
Jessica Gregory, who joined Mogers Drewett last year as residential client coordinator, is also based in the Sherborne office but will also cover Bath, Wells and Frome as well.
She will be responsible for supporting new residential property clients and building on existing partnerships with property professionals across the region.
Mogers Drewett managing partner Sean McDonough said he was delighted to welcome Samantha Cook to the firm's conveyancing team.
"Samantha has great experience dealing with all aspects of residential property and a wealth of contacts and knowledge," he added.
"We previously worked together more than a decade ago at another law firm when Samantha had just commenced her legal training. I am therefore delighted to have the opportunity to work with Samantha again.
"We also congratulate Jessica on her promotion to what is an important role within the residential team.
"She will be working closely with Samantha and the rest of the team to ensure our property clients and referrers get the best possible service and support.
"These appointments represent a significant investment in our residential property team."
Mogers Drewett employs nearly 100 people across its four offices, providing a full range of legal services for businesses and individuals.