The Roman Baths' new state-of-the-art learning centre is to open next month – the second boost to the city's visitor economy in as many months.
Based in a former Victorian spa laundry building – along with an area of Roman remains beneath street level – the Roman Baths Clore Learning Centre ­will allow pre-booked school and community groups to learn about the site's history and heritage in a hands-on and accessible way.
Its opening, on June 16, follows that of Bath's new World Heritage Centre on nearby York Street earlier this month.
The centre celebrates Bath's unique cultural offering as a UNESCO World Heritage Site and gives visitors an insight into what makes the city so special.
A highlight of the Clore Learning Centre is a pioneering new learning space called the Investigation Zone – an atmospheric underground environment set amid real Roman remains in one of the great sites of the ancient world.
Here, children will be able to explore, investigate and record archaeological materials in a hands-on way, becoming mini-archaeologists and mini-curators as they participate in learning sessions amongst real Roman archaeology, handling real artefacts and walking on the same pavements that Romans did 2,000 years ago
The floors above contain two stunning new learning spaces – the Sulis Room is geared towards primary school groups, with photos of Roman characters on the walls and views across the street to the Roman Baths, while the Minerva Room is a flexible space that can be used for a variety of activities – from gathering around large tables for a handling session, to sitting theatre-style to watch a presentation.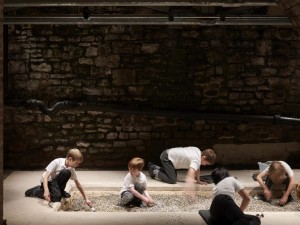 The centre will offer stress-free school visits, including a lunchroom inspired by the laundry's former Water Tank, a designated coach drop-off point and a tunnel which creates a dramatic, direct route from into the Baths.
Teachers can choose from a range of inspirational teaching sessions and activities, with opportunities to handle Roman objects from the museum's collection and investigate historical sources.
The sessions are closely linked to the National Curriculum and cover subjects such as Roman bathing, religion and belief, Latin language and life in Roman Britain.
The Clore Learning Centre is part of Bath & North East Somerset Council's long-planned Archway Project, which is supported by The National Lottery Heritage Fund. The project also includes a Roman gym along with the World Heritage Centre.
Council leader Cllr Kevin Guy said: "We're really looking forward to welcoming school children and local community groups into the Roman Baths Clore Learning Centre.
"Once established, about 15,000 people a year are expected to use the centre. The amazing new, purpose-built facilities will greatly improve the quality of their visit to the Roman Baths."
Roman Baths learning and participation manager Lindsey Braidley added: "Learning outside the classroom is an essential part of children's education.
"Studies have shown that cultural trips significantly improve the health and wellbeing of students – something that, after successive lockdowns and reduced access to trips, is more essential than ever."
The offer for schools will be complemented by a vibrant community engagement programme, which will build new relationships with local community groups, and offer student placements, apprenticeships, and volunteering opportunities. Outreach events will allow a wider range of people to engage with the unique history and heritage on their doorstep.
Stuart McLeod, Director, England – London & South at The National Lottery Heritage Fund, said: "We're delighted to see the Roman Baths Clore Learning Centre open.
"Thanks to National Lottery players, school groups will be able to engage and connect with the history of Bath in a new way.
"They can discover more about its rich heritage through hands-on learning, and walk through Roman archaeology in real life.
"This experiential learning will be very memorable to these young historians and offer a glimpse into the fascinating history of this World Heritage Site."
The Clore Learning Centre is kindly supported by Clore Duffield Foundation, the Garfield Weston Foundation and The Roman Baths Foundation.
Clore Duffield Foundation director Kate Bellamy said: "We are delighted to support the new Clore Learning Centre at the Roman Baths. It will bring Roman history to life, provide an inspirational day out for all the children who visit, and enthuse the next generation of historians."
Bath tourism chiefs hope the Clore Learning Centre and World Heritage Centre will act as a springboard for tourists and local people to engage with the city's culture, history and heritage and explore popular landmarks as well as lesser-known places around the city as it rebounds from the impact of the pandemic.