Bath project management consultancy Nine Feet Tall is to support local charity Jessie May this year in a move that coincides with the World Health Organisation (WHO) declaring 2020 the International Year of the Nurse and Midwife.
The partnership will involve Nine Feet Tall raising funds for Jessie May through sponsored events as well as sharing business skills with the charity's staff.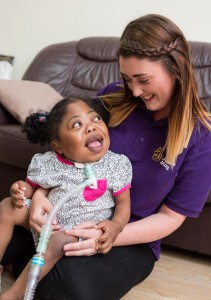 Jessie May has a 13-strong team of passionate and dedicated nurses providing a 'hospice at home' service of care and support to terminally ill children and their families across Bath and North East Somerset, Wiltshire, Bristol, South Gloucestershire and North Somerset.
Its services range from providing vital respite care, emotional support and end-of-life care to bereavement support, alongside family events that help create treasured memories.
The charity recognises that the whole family is under huge emotional and physical strain when a child has a life-limiting illness and its support is provided in the comfort of the family's own home whenever possible from the time of diagnosis onwards.
Jessie May corporate partnerships manager Lindsey Horton said: "Our corporate partnerships are a vital part of our fundraising and we are excited to be working with Nine Feet Tall".
Nine Feet Tall founder Esther McMorris added: "We are delighted to work with Jessie May. Our team are in awe of the work they do to help families going through the most difficult times imaginable."
Nine Feet Tall specialises in business transformation, working in close partnership with clients across the legal, retail, financial services, construction and manufacturing sectors to deliver widespread, positive change regardless of the organisation size and despite the cultural challenges faced.