Updated plans for Bath's long-awaited new office quarter have been unveiled to the city's business community to coincide with the appointment of insurance giant Legal & General as development partner on part of the scheme.
Dozens of representatives of businesses from across the city were given a brief overview of progress on the Bath Quays development yesterday ahead of construction work starting on the first office building in May.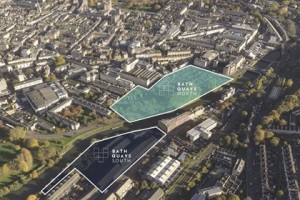 New branding for this 50,000 sq ft building – now called No 1 Bath Quay – was also unveiled along with a re-brand of the city's enterprise zone, which will now go under the name Space In Bath.
Head of the enterprise zone and Bath & North East Somerset Council (B&ES) infrastructure and development manager Simon Martin, said the new branding was designed to "transform the business offering of the city", with space to grow for the kind of expanding businesses that, due to the lack of new office development in Bath for the past three decades, have been forced to relocate to Bristol or Chippenham.
He told the business leaders that the Quays development was unprecedented in a generation and would make Bath's economy more resilient and vibrant and enable it to accommodate businesses in its target high-growth sectors or creative, technology and financial services.
"Bath is open to business for business," he said.
In total, Bath Quays North and South – which are either side of the River Avon west of Churchill Bridge – will bring 500,000 sq ft of new development in 10 new buildings to the city over the next three years, giving it its first-ever planned business quarter and creating Up to 9,000 jobs.
Some 300,000 sq ft of grade A office space will be developed on a flexible basis to suit market needs along with an underground car park to replace the surface and multi-storey one in Avon Street, a business-focused hotel, 150 apartments and ground-floor cafes, restaurants and retail units to cater for employees in the offices.
The development will also have high-quality IT links, including Bath's first dual-cable system, meaning that if one connection is broken, the supply is not disrupted and businesses can continue to operate. Such schemes are common on flagship office schemes in London and Bristol.
No 1 Bath Quay, which is being funded by B&NES, will be built at Bath Quays South by construction group BAM. Scheduled to open in the spring of 2021, it is now being marketed by the Bristol office of property agents Knight Frank.
Running roughly to the same timescale will be regeneration specialists TCN's conversion of the four buildings making up the historic Newark Works at Bath Quays South into 45,000 sq ft of offices targeted at small firms in the city's burgeoning creative and digital sectors – the kind of businesses that have been forced to move to Bristol in recent years due to a lack of such space in Bath.
Legal & General will work with developer Bell Hammer on Bath Quays North, having been selected by B&NES as its development partner.
B&NES leader Tim Warren said: "We look forward to working with our development partner Legal & General, who shares our vision to transform Bath Quays.
"The Bath Quays North site represents the most significant office expansion in our city for a generation, securing our economic future for years to come.
"By providing high-quality workspace we can attract and retain high-value businesses in the city resulting in higher wage jobs and improved opportunities for residents."
Legal & General said the partnership reflected its significant on-going commitment to investing in Bath, where it is about to complete 171 build-to-rent apartments at Spring Wharf
The proposed redevelopment of Bath Quays North demonstrated its focus on creating sustainable communities with good employment opportunities and housing, Rachel Dickie, head of urban regeneration at Legal & General's Future Cities business, said.
Legal & General has invested billions of pounds into regenerating towns and cities across the UK in recent years, including partnerships with Local Authorities in Cardiff, Salford and Newcastle and central government bodies such as Homes England and the Department of International Trade.
"We are delighted to have been selected to develop Bath Quays North and look forward to working with the council to bring our vision for Bath to life," she said.
"Our investment partnerships in cities such as Cardiff and Newcastle are already delivering at pace, and we believe that our plans for Bath Quays North will have a significant positive impact on the city centre, generating employment opportunities and economic growth."