Two schoolfriends who started their online furniture business aged just 18 are looking for a new phase of international growth after its sales soared to nearly £17m within seven years.
Monty George and Dan Beckles launched Furniturebox when they saw a gap in the market for selling furniture online.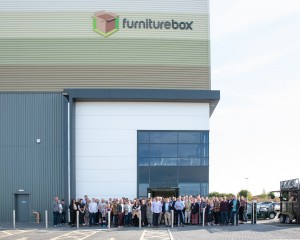 It expanded rapidly during Covid when most furniture shops were closed. Sales soared from £9.4m in 2020 to £16.7m.
Last year it was ranked as the fastest-growing small business in the South West in the Sunday Times' list of the UK's most successful private companies and also picked up the same accolade in the Lightning 50 league, which tracks growth rates for hundreds of online businesses across the UK.
Now, as the firm lines up alongside Dunelm, Habitat and Ikea among the UK's leading furniture brands, it has opened a £3m, 88,000 sq ft headquarters and warehouse at junction 17 of the M4 near Chippenham.
The site, which employs 53 people, is transforming the business as it means it can offer next-day deliveries to anywhere in the UK on orders placed as late as 8pm the previous evening.
Furniturebox, which was previously based in Mere, South Wiltshire, also expects its 95% sales growth of the past three years to accelerate as it pushes into the US and other international markets.
Dan said: "Moving into the new warehouse has been incredibly exciting because we can increase our capacity by fivefold and it is so easy to dispatch orders being right next to the M4.
"We are running an incredibly efficient model which means we can easily access all the markets which are important to us – from our own website to other big online sellers such as Amazon, Robert Dyas and many more.
"The business has really grown over the last three years and now we are looking to expand internationally with that solid foundation behind us."
When Dan met Monty he was due to go to university. A schoolboy serial entrepreneur who was already turning over up to £200,000 a year selling products such as computer tablets and phone cases on eBay, Monty persuaded Dan to turn down the place and join him in setting up Furniturebox.
Monty said: "I could see that there was a huge market for furniture and it was very under-developed online.
"I bought a couple of containers of furniture and persuaded Dan to join forces with me to sell it online. That is how the business started.
"It has been an amazing seven years of growth. We know that the model we have now is highly efficient for profit generation.
"We feel we can roll that out in other markets – in America, Germany and elsewhere. In the furniture industry, there aren't really any other ecommerce companies doing the same thing as us."
The pair say the key to managing its growth has been working with Bristol-based retail operations software specialist Brightpearl, which transformed its online operation when it was introduced five years ago.
Dan said: "Brightpearl has been incredibly important for us because we sell through nine different channels in the UK, but we are now expanding in the US through the big furniture store Wayfair.
"Without Brightpearl, we were having to draw data from different channels and everything was being done manually. Monty and I were cutting and pasting orders onto Amazon on a Sunday night before starting the new week on a Monday. It was exhausting.
"Suddenly all those orders were inputted electronically and it revolutionised the business.
"Finally we had an automated central hub for all our activities – from sales to stock management.
"Customer service can leave comments on orders and our shipping was so much more efficient.
"It meant that we have been able to cut back on staffing doing manual administration and reinvest those savings in other areas of the business."