A rare chance to move into a business unit on a popular industrial estate has come about six months after it became full.
The Woodland Industrial Estate in Westbury, owned by Bath-based commercial property firm HPH, became fully let last November when independent Land Rover and Range Rover specialist Broad Lane Land Rovers relocated to a 4,120 sq ft building from Melksham.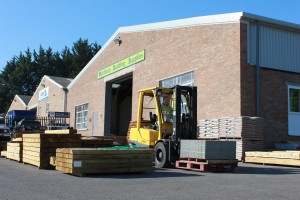 The firm joined recent arrivals including site investigations firm Topdrill and The Paper Bag Company, which supplies plain and printed promotional bags to retailers, on the estate alongside more established occupiers such as online wedding gift list firm Prezola, dress retailer Vestry Online and independent online book shop A Great Read.
Now a 5,511 sq ft commercial unit with fully refurbished offices and part mezzanine, as well as 12 allocated parking spaces and a rear service yard, has come onto the market.
HPH has invested heavily in the estate over recent years, renovating and modernising more than 60,000 sq ft of commercial space to suit a range of businesses.
Commercial space on the estate ranges from 750 sq ft single units to larger, fully-equipped warehouses of more than 12,000 sq ft. In total 21 businesses employ approximately 80 people at the estate.
HPH managing director Lindsay Holdoway said: "Companies today are looking for ways to maximise the space available to them to ensure that their businesses operate more efficiently.
"At Woodland Industrial Estate, we are proud to have a collection of successful and varied companies that enhance the local business community.
"We keep in regular contact and build strong working relationships with our occupiers to see if there are ways in which we can support their operations. We understand that it is the relatively small details that can be the most important when it comes to business.
"We are very excited to have an opportunity for a new business to come onto the estate in Westbury and are looking forward to working closely with our existing and future occupiers."
Woodland Industrial Estate central location in Westbury means many employees can walk or cycle to work. It also has good transport links and quality landscaping while the buildings are energy efficient buildings.
HPH owns and manages an extensive property portfolio across Bath, Wiltshire and Somerset.