SETsquared, the unique enterprise partnership backed by the University of Bath, has been named as the world's number one university business incubator for the third consecutive time.
It beat off challenges from more than 1,500 incubators and accelerator programmes in 78 countries across the globe to claim the title once more in the contest staged by leading research and advisory firm UBI Global.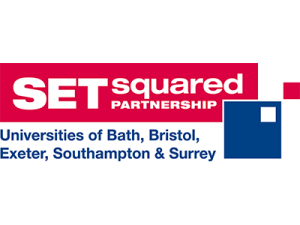 The world's most extensive benchmark study takes place around every two years and scores the incubators against 21 key performance indicators (KPIs). SETsquared, which is also backed by the universities of Southampton, Bristol, Exeter and Surrey, performed highly in all categories.
The title was awarded at last night's World Incubation Summit in Qatar and continues SETsquared's ongoing success, having first won it in 2015 and then again in February last year.
This year SETsquared was commended for demonstrating exceptional value for tech start-ups and the local ecosystem with bespoke entrepreneur training programmes and unrivalled access to a network of mentors, alumni, investors, corporate partners and the knowledge base of the five research intensive universities.
SETsquared has supported more than 4,000 UK hi-tech start-ups since its inception in in 2002, helping them raise more than £1.8bn of investment and creating £8.6bn of economic impact to date – a figure set to rise to nearly £27bn by 2030.
SETsquared Bath, which is based in the University of Bath Innovation Centre on Broad Quay in the city centre, accelerates tech-based businesses with high-growth potential to move from initial ideas into commercial viability.
It offers a business development programme tailored to the size, stage, needs, and product offering of each company.
In the last year alone, 325 students, academics and entrepreneurs in Bath have participated in SETsquared programmes, with supported companies raising £10.5m in investment between them.
SETsquared Bath centre director Brian Prescott said: "SETsquared Bath is immensely proud to be a part of the SETsquared Partnership and to have ranked number one in UBI's global benchmark study amongst some of the world's top university business incubators.
"Our team, and those of the other four university partners, are passionate about developing and supporting the innovations of tomorrow and there is no better reward for our work than to be acknowledged in this way."
SETsquared Bristol centre director Monika Radclyffe represented the SETsquared Partnership at the gala and was invited on stage to receive the award, alongside SETsquared programme director Karen Brooks.
Monika said: "Being ranked the global number one university business incubator for the third consecutive time is a fantastic achievement and one which reflects the incredible work done across each of the five partner universities, whose teams work tirelessly to champion innovation and support the brilliant entrepreneurs that are developing their companies through one of our bespoke training programmes."
SETsquared Bath-based innovation director Simon Bond said: "We're thrilled to be acknowledged as the world's top university business incubator once again and to be recognised amongst the world's leading university business incubators and accelerator programmes.
"This ranking is testament to the dedication of everyone in the SETsquared team and their commitment to the entrepreneurial talent and research and innovation capabilities of the UK. We hope this ranking demonstrates to entrepreneurs, start-ups and scale-up businesses across Bath that SETsquared has the experience and track-record to help them succeed and grow."
UBI Global CEO and co-founder Ali Amin the benchmarking is based on a rigorous data-driven approach.
"Our World Benchmark Study 2019-2020 is in tune with the multiple facets of the international incubation ecosystem and illustrates key challenges and opportunities faced by the participating programmes.
"The top lists of programmes were each recognised for outstanding performance in nurturing entrepreneurship and innovation, but SETsquared really stood out amongst its peers. We'd like to extend our congratulations to the whole team for these exceptional results, which really highlight the Partnership's fantastic contribution to business, innovation and the UK economy."
Pictured from left: Ali Amin, CEO & co-founder UBI Global; Ibrahim Mannai, executive director of advisory and incubation Qatar Development Bank; Khalid M. Al-Ali, co-founder and executive chairman SENSETA Qatar; Karen Brooks, programme director at SETsquared Partnership; Monika Radclyffe, centre director at SETsquared Bristol