Strong exports to the US, Canada, and Australia have lifted revenues at tech innovator Scanning Pens, which produces pens that help dyslexic children and adults to read.
The firm, based in Westbury, Wiltshire, was co-founded in 2003 by Jack Churchill and Toby Sutton.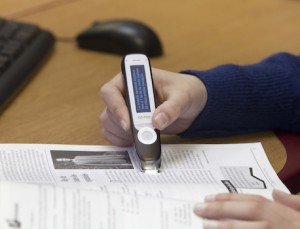 Their skill and interest in edtech as well as Jack's personal experience with dyslexia helped them build a successful business.
Five years ago it decided to take its products to the global market, supported by the Department for International Trade (DIT), which paid for the firm to attend a tradeshow in Dubai and embark on market visits to the US.
This support has helped the business establish important relationships – exports now accounts for 50% of total sales and it has grown to become the world's leading supplier of pen scanners with subsidiaries in the US, Canada, Australia, India as well as an expanding network of resellers.
Between 2017-2019, sales in America, Canada and Australia grew by 179%, 295% and 316% respectively, with the US now its biggest export market accounting for £2m of annual revenue.
Sales have also been boosted by the rise in home schooling during the coronavirus pandemic started.
The firm, which employs more than 70 people, is supporting National Dyslexia Awareness Week, which ends on Sunday, and Dyslexia Awareness month – annual events aimed at raising awareness about dyslexia and what can be done to support people with it.
It is also campaigning for Go Red, a group which aims to raise awareness of dyslexia, with their hashtag #GoRedForDyslexia going global on social media.
Scanning Pens CEO Jack Churchill said: "There has been a surge of demand during the pandemic as non-human reader aids have become vital for children with special educational needs (SEN) who have lost the support of classroom assistants.
"The UK education system is respected around the world and as well as teaching, we have cutting edge publishers and technology companies.
"The Department for International Trade was an obvious first step to help us export and give us connections in markets where we had none. There is huge scope to grow our international base with DIT's support."
Latest figures from The Department for Education show that since 2010 the estimated value of education-related exports has risen by 34.7% in current prices.
Total education exports and transnational education activity from the UK was estimated to be £21.4bn in 2017, an increase of 7.2% on the previous year.
UK tech has also boomed in export markets, with Tech Nation's Unlocking Global Tech report showing the UK had £23.3bn in digital tech overseas sales last year – with the potential to grow this by more than £8bn by 2025.
DIT South West head of trade Paul Shand said: "Scanning Pen's achievements in these markets indicate the strong demand for innovative British high-quality edtech services.
"It is great to see it succeed and provide these invaluable tools during a time when access to vital learning resources has been limited.
"Trade will play an important role in getting our economy back on track and Scanning Pens is a great example of how companies can look to lucrative overseas markets to boost their sales while creating more jobs."