One of the most inspirational women in technology is to give the second in a series of talks by high-profile business women in Bath later this week.
Carole Mundell, head of physics at the University of Bath, will speak at The Gainsborough Bath Spa Hotel's Phenomenal Women event on Thursday, part of a series that aims to celebrate, support and inspire women in business across the region.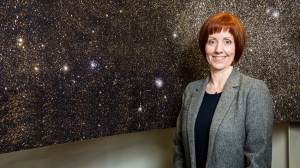 Carole, pictured, is the university's Professor of Extragalactic Astronomy and was awarded the prestigious 'Women of the Year 2016' FDM Group Every Women in Technology award, which celebrates the most inspirational women in technology. She is an observational astrophysicist who researches cosmic black holes and gamma ray bursts.
The series of talks is being staged in conjunction with the University of the West of England's Bristol Business School.
Each speaker has achieved recognition and made a significant impact in her field. Delegates will find out about their experiences and the challenges they encountered on their way to success.
The programme was launched in February by Liv Garfield, CEO of Severn Trent Water and one of the youngest ever FTSE 100 chief executives.
Future events are:
June 14: Dr Jacqueline Cornish OBE, national clinical director for children, NHS England. Jacqueline provides senior clinical leadership in NHS England and gives clinical advice on children and young people nationally across all the health-related arm's length bodies, the royal colleges, government departments and the voluntary sector.
August 12: Laura Marshall, MD, Icon Films. Over 27 years Icon Films has produced factual and award-winning TV and films both in the UK and overseas, working with household names such as Carol Vorderman, Joanna Lumley and David Attenborough.
November 1: Katherine Bennett OBE, senior vice-president, Airbus. Katherine is responsible for leading the company's strategy and external relations in the UK and reports directly to the global CEO. Airbus has 15,000 employees and its UK operations lead on engineering for wing design and manufacture, satellites and cyber activity.
Tickets for each talk cost £15 and include prosecco and canapés. Each guest talk will be followed by a facilitated discussion based on leading-edge business and management research with a member of the Bristol Business School.
The series takes its name from the poem Phenomenal Woman by US poet Maya Angelou.
The five-star, 99-room Gainsborough Hotel, which opened two years ago, was earlier this year named as the number one hotel in the UK outside of London, number two in Europe and number three in the world by readers of the upmarket Condé Nast USA Traveler magazine. It is the first UK hotel to be opened by YTL Hotels, part of the giant Malaysian YTL conglomerate that also owns Bath-based Wessex Water.
To book, call 01225 355329. For more information click here