The Gainsborough Bath Spa Hotel's Phenomenal Women series of talks returns next week after a gap of three years.
The series aims to bring some of the West of England's most inspiring women to the hotel to share their experiences – with best-selling author, critic, broadcaster and stand-up comedian Viv Groskop first up next Tuesday, 14 March.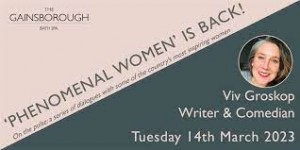 Viv, pictured, host of the hit podcast How to Own the Room, was one of the 'phenomenal women' to speak at the hotel on Beau Street in early in 2020 – shortly before the series was curtailed by the pandemic.
She is back to talk about The Most Inspiring Women of 2023 (so far) as a celebration of female achievement following International Women's Day.
Viv, who grew up in Bruton and was the artistic director of Bath Literature Festival from 2014 to 2016, will analyse the lessons that can be taken into our own lives from dozens of examples of women of all ages and backgrounds – from household names such as Madonna's international tour and Rihanna at the Superbowl to Jacinda Ardern's life-affirming farewell speech as prime minister of New Zealand – to those who are "quietly getting on with it".
The evening promises prosecco, laughs and practical hints and tips for confidence, presence and self-belief.
There will also be plenty of opportunities for networking and celebrating with friends and colleagues. Mothers, daughters and sisters are all welcome.

Tickets for the event, which starts at 5:45pm, cost £15 each and include prosecco and canapes. Click here to book.
All money raised will go to the Bath-based women's charity Voices, which provides recovery support and advocacy for people affected by domestic abuse.
Details of future Phenomenal Women speakers will be announced at a later date.
The multi award-winning five-star, 99-room Gainsborough Hotel opened seven years ago. It was the first UK hotel to be opened by YTL Hotels, part of the giant Malaysian YTL conglomerate that also owns Bath-based Wessex Water.