An innovative scheme to use the Roman Baths' naturally hot spa water to heat surrounding buildings, including the soon-to-open World Heritage Centre, is entering its final phase.
Heat harvested from hot water in the King's Spring will be used in the centre on York Street, which is due to launch this spring, along with the Roman Baths and Pump Room and the Clore Learning Centre, also scheduled to open in the coming months.
Sixteen 3m-long energy exchange blades are being inserted into the King's Bath this week with a new plant room created beneath Stall Street.
The work is the final stage of a project that has been carried out over the past seven years, mainly in underground vaults away from the public eye.
Bath & North East Somerset Council (B&NES), which owns the Baths, took advantage of their closure in 2020 due to Covid to insert pipework into parts of the building normally open to the public.
The project, on which Bath-headquartered global consulting engineering group Buro Happold is working, replaces a much smaller heat exchange scheme installed in 1993.
Buro Happold senior mechanical engineer John Standivan said: "The city's hot spring water presents an ideal opportunity to provide a sustainable heating system for the Roman Baths.
"The water is technically quite difficult to use but after plenty of analysis and lots of studies, the Buro Happold team is delighted to have helped deliver this world leading scheme for our home city."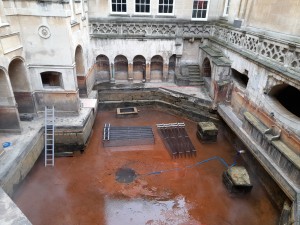 The system is being installed by Surrey-based renewable energy contractor Isoenergy, which previously worked on a similar heat pump scheme next door in Bath Abbey.
Isoenergy commercial director Ed Levien said: "It has been great to be involved in this project alongside Buro Happold for the past seven years. Once complete it will deliver significant carbon savings to B&NES."
B&NES cabinet member for children and young people, communities and culture, Cllr Dine Romero, said the project would deliver on the council's promise to respond to the climate emergency by significantly reducing the carbon footprint of its major civic buildings. It will also achieve a financial saving over its more than 20-year lifespan.
Roman Baths and Pump Room manager Amanda Hart, pictured, added: "Bath's naturally hot spa water has been used in many ways throughout history, and it's fantastic that we can now harvest the heat from it to help reduce our carbon footprint.
"In installing the scheme, great care has been taken to protect the integrity of the springs, the Roman archaeology and other historic fabric."
The World Heritage Centre and Roman Baths Clore Learning Centre are aimed at greatly enhancing visitors' appreciation of the city's history.
The two centres are part of the Archway Project, which will bring to life previously closed areas of the Baths to visitors, including a Roman gym and laconicum – a type of sauna – and an exercise courtyard with projections and sounds depicting the Roman spa experience.
The World Heritage Centre will have free admission and show visitors why Bath is so special. They will be able to pick up trails and guides to help them explore the city.
The Roman Baths Clore Learning Centre will be for pre-booked school and community groups and will feature three state-of-the-art learning rooms, and a hands-on investigation zone set among real Roman remains.
Pictured, top: The Roman Baths, (photo by Visit Bath/Colin-Hawkins). Centre: The drained King's Bath ready for the energy exchange system to be installed