Purpose-driven comms consultancy Second Mountain has launched its own podcast series showcasing what it is calling "inspired stories from inspiring people".
Good Journeys with Second Mountain will feature a host of UK-based and international guests from the entertainment, sports, lifestyle and wellbeing industries, as well as purpose-led business owners, third sector professionals and inspiring individuals with personal and moving stories to share.
Each episode will be presented by Second Mountain founder, former journalist and chartered PR professional Ben Veal, pictured below, who will take a deep dive into the guest's personal journeys and how they have overcome unexpected circumstances and the challenges thrown at them along the way.
The series aims to inspire listeners to embark on their own journeys of self-discovery and to move forward in their lives with focus, intent and purpose.
Good Journeys with Second Mountain is available on Spotify, Amazon Music, Apple Podcasts and all major podcast apps. Episodes can also be watched in full on Second Mountain Comms' YouTube channel.
The guest on the series' debut episode is Josh Winning, author of the critically acclaimed fantasy fiction novel The Shadow Glass (published by Titan Books), a nostalgia-laced tribute to 1980s classics such as Labyrinth, Dark Crystal and The NeverEnding Story.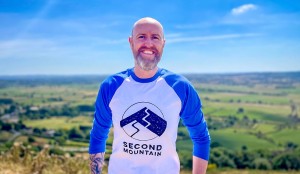 Josh is also the author of The Sentinel Trilogy and Vicious Rumer, a senior film writer for the Radio Times, a regular feature journalist for Total Film magazine and co-hosts the Torn Stubs movie podcast.
In the episode, Josh talks candidly about "writing as therapy" and the challenges of penning fiction. He explores how his latest book has positively impacted his relationship with his father, what it felt like to create escapist stories and build connections with like-minded 1980s film fans during the course of a global pandemic, and the importance of making mindful changes to guard against the mental health and wellbeing impact of our omnipresent devices and the constant draw of apps and social media.
Ben Veal, who launched Second Mountain in Bath during the first national lockdown, said the podcasts aimed to provide inspiring people with a platform to share their stories.
"Hosting a podcast has long been an ambition of mine. Podcasts are such a rich, immersive medium and, in this day and age of endless 24/7 streaming and non-stop scrolling, provide the rare opportunity for fantastically open and honest long-form conversations," he added.
"With a great selection of guests from around the world already lined up for the show over the coming months, this is just the beginning of a very good journey that lies ahead."
Now based in Holt, near Trowbridge, Second Mountain is on a mission to help good people to do good by sharing their values and accomplishments in meaningful ways.
Ben and his team of creative partners deliver strategic PR and content campaigns for a host of regional, national and international clients, including mental health support charities Charlie Waller Trust and Somewhere House Somerset, sustainable tea producer Organic India, and People against Poverty, a Wiltshire-based not-for-profit organisation committed to alleviating poverty around the world.