A new way to make money from dairy farm waste is to be commercialised by a start-up business founded by a former University of Bath mechanical engineering student.
Frome-based BioFactory secured funding from Innovate UK and Defra for a 12-month feasibility study via the Farming Innovation Programme after developing a modular anaerobic digester (AD).

It is now raising working capital to commercialise the product, which can be scaled to any size of dairy farm.
While anaerobic digesters – which ferment organic matter to produce biogas for heat and power generation – are well established in the industry, systems are often too costly and high-maintenance for most family farms.
BioFactory was founded by mechanical engineer Eoin Sharkey, pictured, as a spin-out from his university Masters' project, which designed waste-to-energy systems.
He has teamed up with serial entrepreneur and BioFactory chief commercial officer Jon Blake, who has developed and managed businesses in the circular economy and has a background in designing and building recycling and recovery technologies.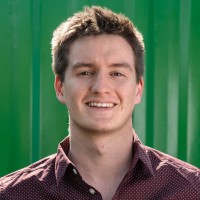 The firm has been working with precision engineering and innovation experts Agri-EPI Centre to develop and refine the system with a view to bringing it to the market.
Agri-EPI Centre has also helped BioFactory access funding, provided technical assistance and introduced its founders to potential funders.
Jon Blake said: "If you're a dairy farmer, you will always have slurry. But we can help turn it into an asset rather than a by-product. There is nothing to say that we can't resolve farming's impact on the environment as well.
"Our ethos is to build something simple and reliable for the dairy farmer. Our units are 40ft-long shipping containers and easily scaled – if you want to increase your herd, you can simply add another reactor.
"We were so lucky to be in the right place at the right time. Our young company had been waylaid by Covid-19 when we came across a pot of funding for developing technology to help with net zero targets.
"Agri EPI-Centre helped us get hold of our grant and develop our product in real-life farming conditions.
"Even though the initial 12-month project has concluded, we are so pleased to continue our relationship with Agri-EPI Centre, who are helping us leverage further funding and sales contracts."
Agri-EPI Centre business development manager for livestock and aquaculture Charlie Bowyer added: "Slurry is nutrient-rich and returning it to the soil is a vital part of circular agriculture.
"Anaerobic digestion is a great way to add value to it whilst retaining nutrients, reducing GHG emissions and becoming more energy independent."
He said digestate had long been recognised as a high-quality fertiliser, and the heat and power created from biogas could create a meaningful income for farmers or reduce their energy bills.
"Commercial AD systems are simply out of reach for most dairy farms due to capital and operational costs, as well as barriers such as planning permission and a changed subsidy landscape since the 'AD-boom' of the early 2010s," he added.
"Working with young companies like BioFactory is Agri-EPI Centre's bread and butter; helping them develop a good idea into a successful business and providing solutions to farmers at the same time."
Agri-EPI Centre is one of four agri-tech centres, founded as part of the government's Agri-Tech Strategy to bridge the gap between industry and academia across the UK and global agri-food sector.
Agri-EPI Centre works with businesses, scientists and engineers to turn their ideas into new products and services that will generate economic growth and help feed the world sustainably.