Independent PR firm Carnsight Communications has completed the five charity challenges it set itself at the start of this year to mark its fifth anniversary.
The Marshfield-based agency, which works with small and creative businesses, announced the move in January and completed all five between March and this month.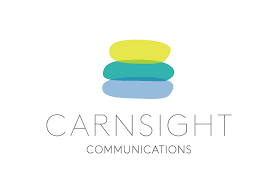 The charities supported were Target Ovarian Cancer – in memory agency founder Jessica Morgan's mother who died last year – and British Heart Foundation – in memory of account manager Georgia Christley's father who passed away in 2019 and also in honour of account executive Leigh-Ann Hewer's best friend – along with Age UK, FMAUK and Family Action.
The challenges included a sponsored 'Dechox' for British Heart Foundation and the Jurassic Coast Challenge to raise money for Target Ovarian Cancer.
The final challenge was in partnership with Family Action and was completed on December 5.
Each Christmas the charity requests donations of toys to give to the families it supports.
Last year it distributed more than 13,000 presents to 11,000-plus children across the country – for many it was the only gift they received.
This year Carnsight Communications supplied more than 20 toys to Hackney Social Prescribing Service in London.
Jessica Morgan said: "We're proud of our business successes this year, but we're even more proud that we've been able to make a difference to five charities, all of which were close to our hearts.
"Research from the Charity Commission shows us that 90% of charities have been impacted in another tough year, with 60% losing income.
"Our experience demonstrates that even small businesses can contribute. A big thank-you to everyone who sponsored us, donated presents and helped along the way, including Almondsbury Ecoheat, Lesley Davies Bookkeeping, Action Woman and Sharp Thinking Marketing."
Georgia added: "This year has been a challenge for many of us and it has been so lovely to have a positive focus for the team at Carnsight as we celebrated turning five.
"The team selected five charities that truly make a difference and for personal reasons all mean so much to us – the work each charity do really is amazing.
"I am proud to have been involved in these fundraising events. It's been great fun for us all and a real team bonding experience.
"It's so rewarding to see the results have made such a difference for the people we have donated to."
Carnsight Communications covers the full range of public relations from social media to SEO-optimised web copy, blogs, influencer liaison and award entries.
Its clients include Bristol customer experience marketing agency Armadillo, brand agency Firehaus, St Joseph's Hospital and Charlton Nursery.
Pictured: The
Carnsight Communications team mark
UK Fibromyalgia Awareness Day. From left:
Jessica Morgan, Leigh-Ann Hewer and Georgia Christley