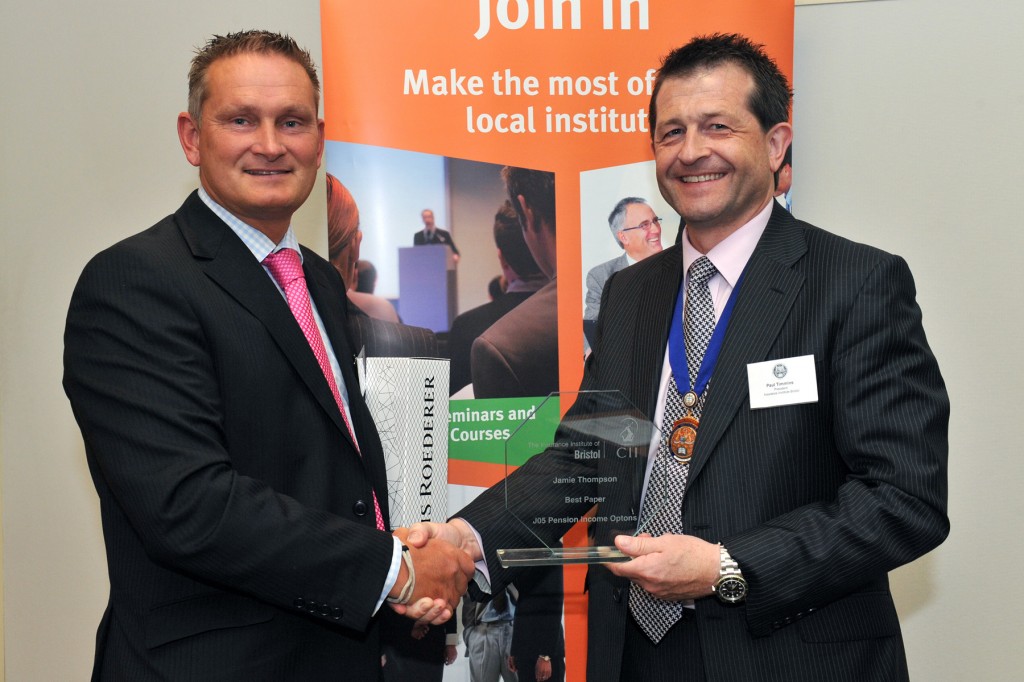 Jamie Thompson, a financial planner with accountants Old Mill, has won a prestigious award following an impressive performance in his Chartered Insurance Institute (CII) exams.
Jamie, an accredited personal financial specialist (APFS), was presented with the Best Paper – J05 (Pension Income Options) Award at the Insurance Institute of Bristol's (IIB) 2011 awards evening.
The 44-year-old got the highest mark of any Bristol member taking the CII J05 paper last year, and was presented his award by IIB president Paul Timmins in front of a packed audience at the Hotel Novotel in Bristol last week.
"I was thrilled to receive the award. I worked really hard on my exams and am delighted my efforts have been rewarded in this way," said Jamie.
Jamie started his career in finance at 18 and worked at Clerical Medical, Prudential, Canada Life and Aegon before joining Old Mill in March. He says he's delighted to now be working for a firm that has such a commitment to staff training.
"Old Mill is committed to providing clients with the best possible service, so ensures its financial planners are trained to the highest possible standards," said Jamie.
"A very high proportion of staff are chartered financial planners, and the business has corporate charter status. In an industry where the usual standard for advisors is a diploma, Old Mill goes above and beyond."