Bath's largest law firm Withy King is sponsoring an auction of artwork donated by more than 70 leading artists taking place in the city next month to raise money for youth charity The Prince's Trust.
An Evening of Art, which is being staged at The Assembly Rooms on December 5, will feature work by renowned artists such as illustrator Sir Quentin Blake and Rolling Stone Ronnie Wood.
The auction is on an exclusive invite-only basis but works can be bid for online now at http://www.princes-trustbathart2013.com.
Bidding will close at 12 noon on December 5 to make way for the live auction in the evening.
Among the works up for offer are a portrait of animated characters Wallace and Gromit by their creator Nick Park, pictured, and a silkscreen and photo collage of Venice by pop artist Sir Peter Blake CBE, best known for producing the cover of The Beatles' Sgt Pepper album.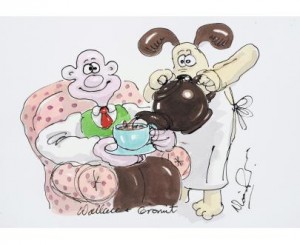 Other artists donating their work include Peter Brown, Sam Wigan, Jason Kelly, Nick Jeffrey and cartoonist Gerald Scarfe. Guests will also be able to bid for a watercolour painting by The Prince's Trust president, HRH The Prince of Wales.
Bath-based Peter Brown said: "I am delighted to be able to contribute one of my paintings to The Prince's Trust Evening of Art this year. The work of The Trust is invaluable for our young people in the South West and I'm glad for the opportunity to play a part in that."
And artist Jason Kelly, who has donated his work Diamond Queen to the auction, added: "Having grown up in the South West, I am a supporter of the invaluable work that The Prince's Trust undertakes in the region to help young people transform their lives."
Also donating work are Diana Armfield, Paul Emsley, Robbie Wraith, sculptor Sam Wigan, who has donated a large sculpture called Pan, and actor John Standing.
Christies contemporary art expert Tom Best will be conducting the live auction and guests at the event will be given touch-screen tablets to use for a silent auction.
Withy King managing partner of Graham Street said: "We're extremely proud to be supporting the Evening of Art again for the great results it achieves for the young people of the city. There is some fantastic art available for collectors of all tastes.
"With youth unemployment still high at the moment, it's important we keep doing everything we can to help disadvantaged young people across Bath and the South West. The money raised from this event will help to support many more across the region."
Other sponsors and supporters of the event are Coutts & Co, The Roper Family Charitable Trust and ResideBath.
The Prince's Trust works helps disadvantaged young people get the skills and confidence to find a job. Three in four young people helped by The Trust move into work, training or education.