Bath-headquartered global advanced engineering group Rotork is hoping for a recovery in its fortunes in the second half of this year after profits and revenues fell during the first six months.
Pre-tax profits fell 12% to £44.6m on revenues down 2.9% to £280m as the group, which manufactures flow control equipment for the global oil, gas, water and chemical industries, continued to be buffeted by global problems, including lower volumes and higher materials and labour costs.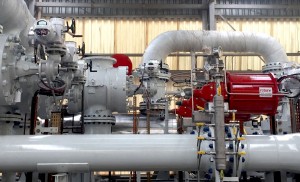 But bosses said a 14% increase in orders to £340m booked between January and June promised a better second half, with those for its chemical, process & industrial and oil & gas divisions strongly ahead of the previous period.
The group said during first half its customers continued to spend on upgrade, refurbishment and maintenance as well as automation, electrification and environmental projects.
Prices rose to levels not seen since 2012, it said, reflecting recovering demand, earlier underinvestment and geopolitical events which had disrupted energy supplies.
"These events have necessitated a reconsideration of energy security risks globally and there are clear signs of a recovery in related project activity, particularly in the midstream sector," it added.
Rotork's Shanghai site resumed full operation in early June following the Covid-19 lockdown and had made good progress delivering delayed shipments to customers.
However, it said the pandemic continued to "pose significant challenges" for global supply chains.
During the period it continued to struggle with shortages of semiconductors, electronics and other components, disrupted freight services and elevated costs.
Labour rates were higher and it also experienced an increase in the cost of key commodities such as copper, aluminium and steel.
The lower deliveries reflected component availability and logistics challenges and the cessation of deliveries to Russia. CPI revenue was ahead double digits, with all three sectors up year-on-year. Oil & Gas sales were down mid-single digits. Water & Power revenues were down double-digits, particularly impacted by semiconductor shortages.
Rotork chief executive Kiet Huynh, who took up the role in January having worked at the group since 2018, said: "We enter the second half with encouraging momentum, a record order book, and with our supply chain improvement actions taking effect.
"Whilst forecasting remains challenging due to geopolitical and macroeconomic uncertainties we continue to expect our full year results will have a greater than usual weighting to the second half, which will be even more pronounced than our previous expectations if recent sterling weakness continues.
"Since presenting my first set of results in March I have spent time, together with my senior team, determining how we will deliver on our growth ambition."
He said the group's progress to date confirmed it was well positioned to deliver profitable growth.
"To summarise our thinking on strategy, we will target the segments which offer the greatest opportunities for profitable growth, including those which form part of our eco-transition portfolio, whilst making ourselves as easy to do business with as we can be," he added.