Bath media group Future hailed the past 12 months as a "transformative year" as it revealed a 189% leap in annual pre-tax profits.
The highly acquisitive group, which has made a spate of takeovers in the past few years, earned the £12.7m pre-tax profits on sales up 70% at £221.5m in the year to September 30.
During the period the group, whose product portfolio spans the technology, gaming and entertainment, creative and photography, music, home interest, hobbies and B2B sectors, said it had it achieved growth in its core titles while also reaping the rewards of its acquisition strategy.
Revenues from its media division, which includes brands such as TechRadar, PC Gamer, Homebuilding & Renovating Show, Guitar World and Space.com, continued to drive growth, it said. During the year the division accounted for 70% of total revenues with online advertising rising by 44%.
Its transatlantic takeovers, including the £100m acquisition of Purch in a deal that added popular US tech and science platforms such as Tom's Guide, Tom's Hardware, Space.com and Live Science to its burgeoning US portfolio, and the subsequent £37.2m deal for digital media publisher SmartBrief, means Future earned 54% of its revenues in the US against 31% at the same time last year.
It also said the scale of business had been "significantly enhanced" by its proposed post year-end £140m acquisition of Country Life publisher TI Media and last week's deal to acquire London-based independent content creator Barcroft Studios, which operates a YouTube channel with 9m subscribers and 63m followers on social media.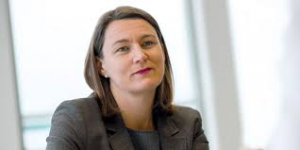 Future chief executive Zillah Byng-Thorne, pictured, said: "Future has had an outstanding year. Our strong financial results provide clear evidence of the continued and effective execution of our strategy, leveraging our technology platform across all our brands to diversify our revenue streams.
"Our acquisitions during the financial year – two specialist cycling brands, Mobile Nations and SmartBrief – have significantly broadened and strengthened our B2C and B2B portfolios and materially increased our US presence.
"The proposed acquisition of TI Media announced post year-end will bring complementary new verticals along with an array of opportunities to further leverage our proprietary technology platform and develop new digital monetisation models and geographic expansion across the TI Media portfolio."
She said the current year had started "very positively" with continuing strong growth. As a result, its next full-year results are expected be ahead of previous expectations.
Five years ago Future slumped into the red by £700,000 in its interim results and embarked on a root-and-branch overhaul of the business, including offloading underperforming titles and making job losses.